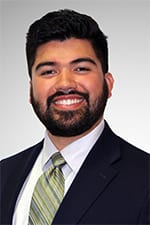 Christopher Harding was appointed as a Trustee of the Library on October 1, 2021 by the Hamilton County Common Pleas Judges.  He will serve a full seven-year term until Sept. 30, 2028. Mr. Harding is Chair of the Strategy Committee and a member of the Technology and Human Resources Committees.
Originally from Portland, Oregon, Mr. Harding attended Xavier University, where he received his Honors Bachelor of Arts degree in Philosophy Politics & the Public. As a first-generation college student and son of an immigrant, he has also been a lifelong supporter of public libraries, going back to when he first volunteered as a book shelver at his local library, the Ledding Library, while in middle school.
While attending Xavier University, Mr. Harding had his first opportunity to work on Capitol Hill joining the Feighan Team Inc. lobbying firm conducting policy research around areas related to early childhood education, small business, and migrant farmworkers. He went on to join the National Association of Latino Community Asset Builders as a Policy Associate, working on legislative and federal regulatory affairs before returning to Ohio to work in politics.
Since returning, he has worked for the Hamilton County Democratic Party (HCDP) as a GOTV strategist and later became the Outreach Coordinator for the Issue 7 transit levy. He has also served as the Deputy Campaign manager for Hamilton County Commissioner Denise Driehaus's re-elect in 2020 before beginning his work for Hamilton County.
After the 2020 general election, Judge Christopher A. Wagner hired Mr. Harding to serve as his Bailiff in the Hamilton County Court of Common Pleas, managing the criminal docket. In February of 2021, Mr. Harding was brought over to the Hamilton County Board of County Commissioner to serve as the Director of Public Affairs in the office of Commissioner Denise Driehaus.
He has also served on the boards of several organizations, including the League of United Latin American Citizens (LULAC) state and local chapters, Clifton Town Meeting as an elected Trustee, the HCDP Executive Committee, and the Ohio Democratic Party's Hispanic Caucus.
He is a resident of Pleasant Ridge.