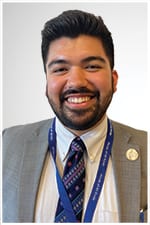 Christopher Harding was appointed as a Trustee of the Library on October 1, 2021 by the Hamilton County Common Pleas Judges.  He will serve a full seven-year term until Sept. 30, 2028.  Mr. Harding is Chair of the Strategy Committee and a member of the Development, Human Resources and Technology Committees.
A graduate of Xavier University, Mr. Harding received his bachelor's degree with honors in political science and from Xavier's premier interdisciplinary program, Philosophy Politics & the Public. Since moving to Cincinnati from Portland, Oregon, he has worked as a political consultant on several countywide campaigns, including multiple Democratic candidates for office and the Issue 7 Transit Levy. He formerly worked in Washington, DC for the Feighan Team Inc., a lobbying firm, and the National Association of Latino Community Asset Builders as a Policy Associate, working on legislative and federal regulatory affairs. He has also served as the Public Policy Chair for the Ohio state chapter of the League of United Latin American Citizens.
Currently, he serves as Bailiff to the Honorable Christopher Wagner in the Hamilton County Court of Common Pleas. Also, he is involved with his local community council as an elected Trustee to Clifton Town Meeting. He is a member of the Hamilton County Democratic Party's Executive Committee and the Ohio Democratic Party as the Hispanic Caucus Secretary. He is a resident of Clifton.