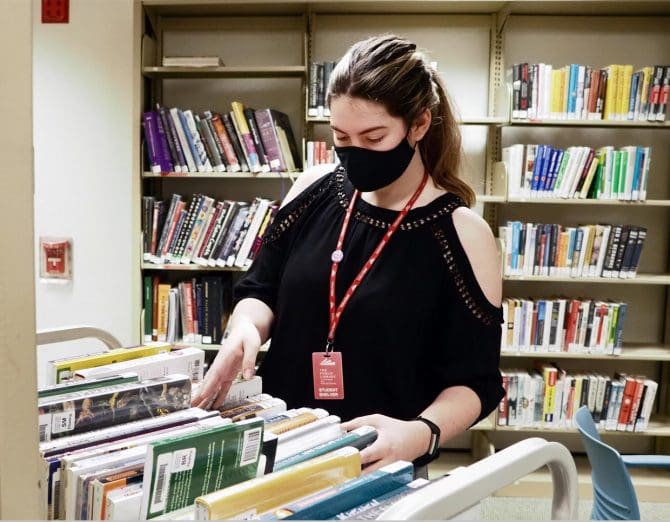 Volunteers play an important role as partners in the Library's mission of connecting people to the world of ideas and information.
Volunteers are welcome at the Downtown Main Library, in administrative departments, and at branches to assist staff by providing services that support library activity.
We have a number of rewarding opportunities for volunteers including supporting children and teen programming, assisting with customer holds, keeping our collections in order, assisting with clerical work, helping patrons with technology, rewarding participants in the Discover Summer program, serving children nutritious meals through our meals program, tutoring through the William Hueneke Homework Center, and several other specialized roles.
Are you a good fit to be a volunteer at the Cincinnati & Hamilton County Public Library?
We host hundreds of volunteers annually throughout our system; however, sometimes a volunteer simply does not match available opportunities. Here is a quick guide to determine if you would be a good match for our opportunities:
Age 12 or older
Looking for an ongoing opportunity lasting three months or longer
Able to commit to an ongoing schedule (weekly or monthly) of 2-6 hours per week
Able to pass a criminal background check (age 18+)
Note: We do not accept court-mandated or diversion program volunteers.
What specific volunteer opportunities are available at the Library?
A complete list of current volunteer opportunities is available online, opens a new window.
May I speak with someone to determine if volunteering at the Library is right for me?
Absolutely! For more information about our volunteer program, call the volunteer hotline at 513-369-6946.
Groups are encouraged to volunteer at special library events such as Summer Learning programs and family nights. For more information about how your group can volunteer, call your local branch or the volunteer hotline 513-369-6946.
Other opportunities to volunteer are also available through the Friends of the Public Library. The Friends conduct used book sales to raise funds for special materials and library programs. Please call the Friends of the Public Library at 513-369-6035 for volunteer information.
By becoming a volunteer, you are making a valuable contribution to one of the busiest public library systems in the country!