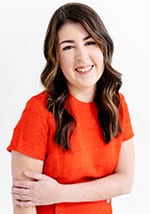 Colleen M. Reynolds was appointed by the Hamilton County Commissioners as a Library Trustee on October 11, 2022. She will serve a seven year term ending October 2029. Ms. Reynolds is the Chair of the Development Committee and is a member of the Operations and Technology Committees.
Colleen is Partner at DSD Advisors, LLC, the government relations consulting affiliate of the firm that partners with public, private, and nonprofit clients to achieve their public policy goals at the local, state, and federal levels. She is responsible for advocacy and communications strategy development and execution on behalf of all DSD clients.
Before joining DSD Advisors, she served as director of communications & community affairs for a Cincinnati City Council member. Her experience includes shaping and guiding the city's $1.4 billion annual budget, managing constituent services and internal stakeholder relationships, directing both internal and external communications, and advising on legislative policy and issue management. She also created, executed, and oversaw office initiatives that received national recognition.
Colleen holds an Honors B.A. in the Philosophy, Politics, and the Public Program from Xavier University, where she served as student body president. She also holds a B.A. in Theology with minors in History and Peace Studies. She is active in the community, serving as president of the Oakley Community Council Board of Trustees and a newly appointed member of the Cincinnati & Hamilton County Library Board of Trustees. She is also an elected Precinct Executive serving on the Hamilton County Democratic Executive Committee. She resides in Oakley.