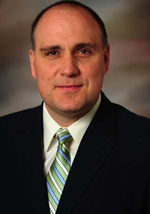 Gregory W. Olson was appointed by the Hamilton County Commissioners as a Library Trustee on May 19, 2020. He will complete William J. Moran's seven year term ending September 2020 and will serve a seven year term ending Sept. 30, 2027. Mr. Olson currently serves as Chair of the Technology Committee and on the Facilities, Finance and Audit, and Strategy committees.
Greg Olson is Manager of Silver Pine, LLC and Co-Manager of Hubert Family, LLC where he is responsible for identifying, investing, and monitoring a variety of "Family Office" non-traditional investment interests.
Greg is also the CEO of Urban Sites and its affiliated entities. Urban Sites has been revitalizing the Over-the-Rhine (OTR) neighborhood since the early 1990's by transforming dilapidated historic mixed-use buildings into modern apartments, condominiums, retail and office-space. Through his relationships and decades of professional experience, Olson cultivates development opportunities, partnerships, acquisitions, and management for Urban Sites. Greg has partnered with The City of Cincinnati, The Cincinnati Development Fund, The Cincinnati Center City Development Corporation (3CDC), and other developer partners throughout OTR and surrounding urban neighborhoods to create award-winning places where people live, work, and enjoy city life.
Olson, formerly a practicing CPA, translates 30 years of financial and operating experience in his guidance of Urban Sites' continued growth. Under Olson's leadership, since joining the company in 2002, Urban Sites and its affiliates have expanded from OTR to Walnut Hills and Covington and grown the number of residential units developed and managed to 650, expanded commercial space under lease to over 160,000 sf and sold over 100 condos.
Greg serves the community. He currently serves as "The Immediate Past" Board Chair of the OTR Chamber and its Executive Committee. He is a Board Member of the Good Samaritan Hospital Foundation and serves on Greater Cincinnati Foundation's Impact Investment Committee, Cincinnati Preservation Association's Investment & Finance Committee and St. Ursula Academy's Facilities Committee.
As a Director of the William S. Olson Memorial Foundation (WSO), since 2003, Olson has raised and contributed over $1,500,000 and fulfilled countless wishes for the Make-A-Wish Foundation. Greg is a devoted family man; he and his wife, Cindy, have three adult children. The Olson's are all active members in Making Wishes Come True through our Family's annual WSO Gala.
As a Director of the Ed & Joann Hubert Family Foundation, since 2017, Olson helps small community organizations provide education, housing, jobs, transportation, and training to those in need. Started by his Father in Law, Ed Hubert, Olson hopes to continue Ed's legacy of "giving a hand up" to others in need.
Olson majored in Accounting and graduated with a BSBA from Xavier University in 1991.