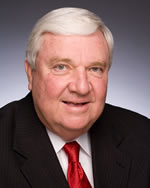 Robert G. Hendon was first appointed to the Board of Library Trustees by the Judges of the Court of Common Pleas to fill an unexpired term through October 2012 and was sworn in as a Trustee in January 2007. He served as President of the Board in 2012 and 2019, as Vice President in 2011 and 2018, and as Secretary in 2010. Mr. Hendon currently serves as Chair of the Facilities Finance and Audit Committee, and is a member of the Operations and Strategy Committees. In August 2012, he was appointed to a full 7-year term to expire in October 2019.
Mr. Hendon, whose career spanned four decades in the field of engineering and architectural design, is a graduate of the University of Cincinnati and holds an MBA from Xavier University. Licensed as a Professional Engineer in over thirty states, he has served as a consultant in Europe and Asia, was a frequent speaker at professional conferences across the country, and has contributed to numerous trade journals.
Mr. Hendon, now retired, is past President of Hendon-Lurie & Associates. He was honored by the Engineering Society of Cincinnati for his "Outstanding Contributions in the Field of Professional Engineering" and was also honored by the Baldwin Society of the University of Cincinnati for his involvement in the renovation of the University's engineering complex.
Mr. Hendon's previous civic activities include serving as President of his local Lions Club, founding the University of Toledo Rocket Family Boosters, performing volunteer work for Habitat for Humanity, and sitting as a hearing officer on the Delhi Township Ohio Zoning Board of Appeals and a trustee on the Board of Family Service of Greater Cincinnati/Northern Kentucky.
Mr. Hendon is a resident of North Bend.