Written by the Genealogy & Local History Department, Downtown Main Library
The Cincinnati & Hamilton County Public Library's collection contains thousands of rare and fragile images, maps, newspapers, books, and other items. These materials share rare glimpses at our community's history. While many of these items can't be borrowed as we keep them preserved for future generations, we're making sure they're still available for you to view.
Our new online exhibit – The 1937 Ohio River Flood – is the first of many interactive experiences showcasing these historic materials and the local history stories they tell.
Using rare photos and maps from CHPL's collection along with recorded interviews with flood survivors, the Library's Genealogy & Local History staff have compiled the stories of the people of Cincinnati experienced what would become the worst natural disaster in the city's history.
View the dynamic experience featuring high resolution historic documents in The 1937 Ohio River Flood Exhibit.
Making Local History Accessible to You
The 1937 Ohio River Flood Exhibit is just the of these new online exhibits we'll be sharing with customers. Many of these items used in these exhibits, like photographs, letters, and diaries, are too delicate for handling. Others are reactive to changes in light, temperature and humidity.
One example of these fragile materials is the diary of Beatrice Fehring-Busch, which is showcased in the 1937 Ohio River Flood Exhibit. Her narrative gives a unique perspective of the flood's impact on her daily life as a teenager (who didn't want to miss youth group where she could see a boy she liked).
Using sensitive high-resolution scanners, we're digitizing these materials and uploading them to the Digital Library where, as well as being featured in these exhibits, you can view them whenever you want for free!
Alongside archived physical materials, elements such as video interviews will be featured and archived in the Digital Library. The 1937 Ohio River Flood Exhibit includes video interviews with flood survivors Senator William L. Mallory Sr., Mary Louise (Eck) Goulding, and Raymond Schad.
Another striking interactive element that will be showcased in these exhibits are side-by-side comparisons between photos, such as the ones displaying the devastating impact of the 1937 Ohio River Flood. Shown in the exhibit are multiple historic 1937 photos from our collection overlaid with photos from modern day.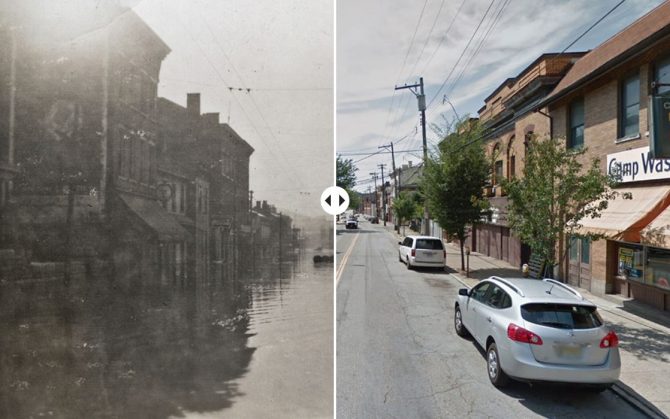 As you view The 1937 Ohio River Flood Exhibit, all the photos, maps, images, and interviews used to create the experience are available to view in the Digital Library.
More Rare Looks at Local History
Using this new online exhibit experience in The 1937 Ohio River Flood Exhibit, we hope you enjoy the first of what will be many new exhibits revealing compelling stories that chronicle Cincinnati's history. Stay tuned for upcoming exhibits including Cincinnati icon Lafcadio Hearn, our enormous collection of historic City Directories, and the once-popular Cincinnati Inclines.
Explore the entire 1937 Ohio River Flood exhibit online and view all the exhibits created by the Genealogy & Local History Department on our website, opens a new window.