Written by Joe Armstrong, Content Specialist, Marketing, Downtown Main Library
The deadline to enroll in ACA Marketplace health insurance is Sunday, Jan., 15 and whether it's your first time applying for health insurance or you're just looking to change your existing coverage, CHPL is joining with local partners to offer free assistance in getting the right insurance to meet your needs and budget.
In-Person Enrollment Events at the Library
Ahead of the Jan. 15 deadline to enroll in the ACA Marketplace, CHPL is hosting events at the Harrison and Walnut Hills Branch Libraries for customers to find free assistance in their enrollment.
Staff from Equitas Health, Freestore Foodbank, Get Covered Ohio, and the Universal Health Care Access Network Ohio will be present to answer questions and help you understand health insurance options, enroll in coverage, and help with post-enrollment issues like finding in-network providers.
Learn About Your Health Insurance Options With Get Covered Ohio, Friday, Jan. 6, 10 a.m. - 1 p.m. at the Harrison Branch Library.
Beat The Deadline! Enroll In Health Insurance Now!, Saturday, Jan. 7, 11 a.m. – 3 p.m. at the Walnut Hills Branch Library.
Find Assistance Over the Phone, Online, or In-Person (Including at the Library!)
Time is of the essence, says Sara Leah Miller, Lead Navigator for Get Covered Ohio and Freestore Foodbank, but there are still plenty of ways to get one-on-one help with enrolling for insurance before the deadline on Jan. 15.
"We actually sit with the consumer, whether in person, on the phone, or over Zoom, and support them through the entire process, answering questions, troubleshooting, helping them find the kind of health coverage that will help them best," Sara Leah says.
If you aren't able to attend one of the events at the Library, Sara Leah says, and you need health insurance and are not sure where to start, visit getcoveredohio.org or call 833-628-4467 for free assistance online, over the phone, or to set up in-person assistance at a public location like your Neighborhood Branch Library.
Get One-on-One Help with Your Enrollment
For those who haven't enrolled before, the process to get health insurance can seem daunting. "We have a lot of first-timers, and it's all confusing," says Brayden Turner, Community Financial Counselor at Equitas Health, "We explain the entire process every step of the way to make sure you feel comfortable and informed when making your decision."
Unsure about the difference between a copayment and coinsurance? How about out-of-pocket and out-of-network? Understanding all of these terms is one of the key things we do to help you understand what plan is best for you, Brayden says.
Brayden's tip for a smooth enrollment is to "take the time to gather all the documents you need, including things like your most recent tax return, Social Security numbers, or immigration documents. Having these items on-hand will make your enrollment go smoothly and simply."
For one-on-one assistance to find and pay for the healthcare you need, visit equitashealth.com/connect or call 614-572-0881.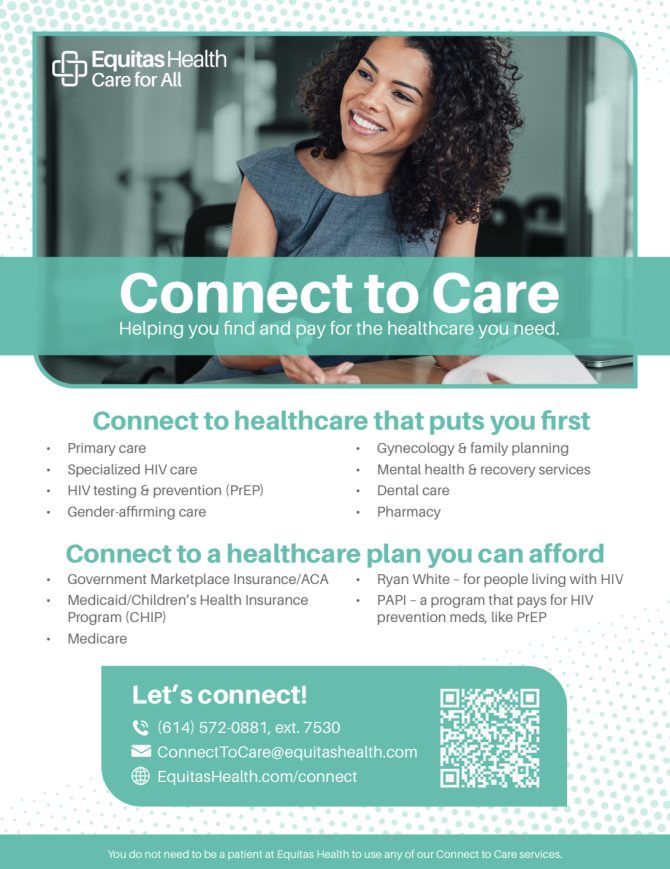 For more information on enrolling in ACA Marketplace health insurance, attend an upcoming enrollment assistance event at the Library or visit getcoveredohio.org.