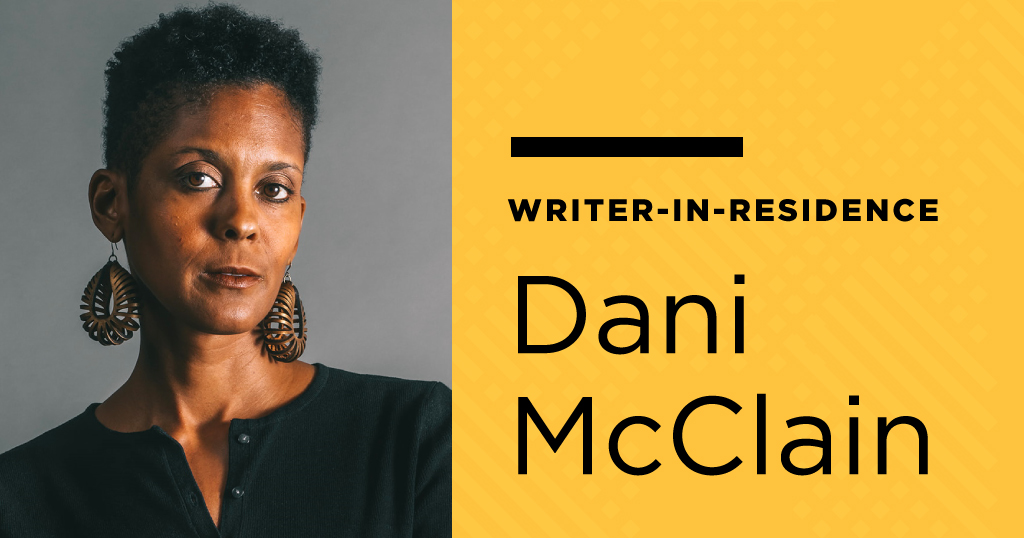 Written by Kelly Sheehy, Content Specialist, Downtown Main Library 
Reproductive health; race; activism; policy and politics; the subjects tackled by the Library's 2020 Writer-in-Residence Dani McClain are not light. Yet they are essential. Her work brings together the direct with the complex. The joy with the pain. The hope with the frustration.
She is a reporter and author whose work has been featured in Time, Slate and Ebony.com. She has received numerous awards, including the James Aronson Award for Social Justice Journalism, and awards from the National Association of Black Journalists and the National Lesbian & Gay Journalists Association. She is the author of We Live for the We: The Political Power of Black Motherhood, opens a new window and contributed chapters to Killing Trayvons: An Anthology of American Violence and Octavia's Brood: Science Fiction Stories from Social Justice Movements, opens a new window. A contributing writer for The Nation, opens a new window magazine and a fellow at the Type Media Center in New York, her work is well-known and respected across the country. 
Over the next 12 months, Library customers and community members have the exclusive opportunity to get proximate with McClain's work and her writing process. As the sixth Writer-in-Residence and recipient of the Library Foundation grant made possible by the support of Naomi Tucker Gerwin, she'll host a monthly podcast, write blog posts, hold office hours, and lead writing workshops. 
We recently sat down with her to learn more about her writing journey and introduce her to the Library's blog readers. We're lucky to have Dani McClain as our new Writer-in-Residence and we can't wait for everything she has in store this year. 
PLCH: Tell us a little bit about yourself – did you grow up in Ohio?
DM: I was born here and grew up in Camp Dennison, where my family has lived for generations. I moved to New York City to go to college and then spent the next 20 years moving around a lot for work and adventure: About seven years total in New York for college and grad school, about seven years in Oakland CA, two years in Milwaukee working for the daily paper there, and a few years back here in Cincinnati more than a decade ago teaching high school. I spent a few months in Miami FL interning at the Miami Herald. I moved back to Cincinnati in 2015 and live with my daughter in Northside.
PLCH: You graduated from Columbia University with a Bachelor of Arts in History and later a Master of Science in Journalism. How has your career as a writer and your interest in certain topics evolved over time? Can you tell us a bit about your journey as a writer?
DM: I got my start with journalism in high school. I wrote student and teacher profiles for Chieftain, Indian Hill's school paper, and became an editor. I was an editor of the state and national publications of the Junior Classical League, which is the organization for high school students studying the classics. I took Latin in high school. In college, I worked on a literary magazine and wrote theater reviews for a campus paper. After college, I wrote press releases and learned how to do public interest PR through my job with a non-profit that's now called Drug Policy Alliance. I've covered education, health and breaking news for daily papers. I wrote campaign and press materials for the civil rights organization Color of Change. For the past seven years, I've been an independent journalist reporting on reproductive health, race, and organizing.
PLCH: Before getting your Masters, you spent time as a Cincinnati Public Schools teacher. Did that have any influence on your transition into journalism?
DM: I had the opportunity to teach social studies at Clark Montessori high school for two school years from 2003 to 2005. I taught US History, US Government, and Economics. My major in college was history, and I loved sharing a topic I'm passionate about with young people. I learned so much during that time from the students, teachers, administrators, and families I worked with. To this day, I'm in touch with Clark alumni and I am always thrilled to hear from and see them around town. 
Like writing, teaching is about clearly communicating complex ideas, making sure your words connect with people where they are. The reporting and writing didn't stop while I was teaching. I was freelancing for CityBeat during those years, and that's when I got to know Kathy Y. Wilson (the inaugural Writer-in-Residence). She brought me into CityBeat and edited me.
PLCH: Your first book is titled We Live for the We: The Political Power of Black Motherhood. What do you think many people understand the least about Black motherhood in America?
DM: Black motherhood has typically been presented in narrow ways in mainstream discourse. With the book, I wanted to explore the Black maternal health crisis (Black women are three to four times more likely than white women to die from pregnancy and childbirth-related complications). I wanted to acknowledge that in recent years the news has presented us with Black parents mourning the loss of their children to police violence. I wanted to connect these difficult aspects of Black family life to the joyful and the quotidian. I wanted to write about self-determination and how organizing and activism can be central to communities. The book is an effort to provide readers with a more complete picture of Black motherhood.
PLCH: What individuals have inspired your work the most?
DM: My sources, family members, friends, writers and people working in other forms of media, including directors and people who write for the screen. I'll name a few people (and their books) who inspired me while I was reporting and writing We Live for the We: asha bandele (Something Like Beautiful, opens a new window), Maggie Nelson (The Argonauts, opens a new window), Cherie Moraga (Waiting in the Wings, opens a new window), Rebecca Walker (Baby Love, opens a new window), Dorothy Roberts (Killing the Black Body, opens a new window), Alexis Pauline Gumbs, Mai'a Williams, and China Martens (Revolutionary Mothering, opens a new window), Toni Morrison, Patricia Hill Collins, Audre Lorde. There are many others.
PLCH: What are you working on right now?
DM: I'm writing articles for magazines and online. Thankfully, there's been good interest in the book, so I'm doing interviews about it and traveling for book-related events.
What do you hope to share with both the Library and the city of Cincinnati at large during your tenure as Writer-in-Residence?
DM: I'm excited to be in conversation with people and hear what they're writing about, reading about, what questions they have that they want to use research and writing to answer. I'm looking forward to the workshops I'm planning, as I enjoy teaching and moderating discussions. 
PLCH: What advice do you have for people who want to speak truth to power but aren't sure where to start?
DM: I'm a big advocate for research and reporting. Our own opinions and instincts are important, but it strengthens our arguments when we can back them up with data, with the experiences of others, and with as much context as possible. 
And keep your eye on the Library's website and be sure to come to my office hours and workshops! Go ahead and subscribe now to the podcast, as I've got some interesting conversations planned. 
Learn more about Dani McClain and her work by visiting her website, opens a new window or following her on Twitter at @drmcclain, opens a new window. Stay tuned starting January 2020 when she kicks off her tenure as our latest Writer-in-Residence.