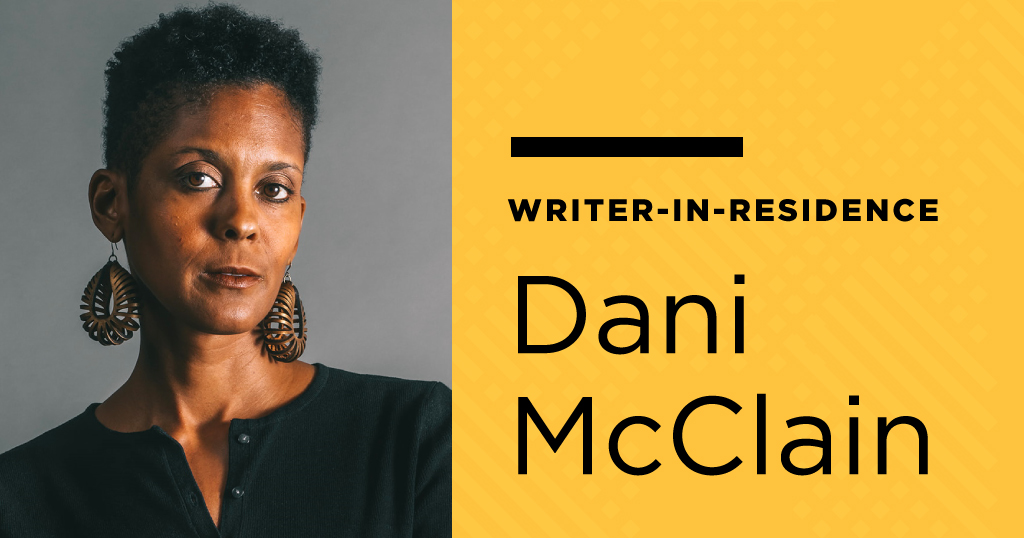 Written by Kelly Sheehy, Content Specialist, Downtown Main Library
If there's one thing many authors and writers have in common, it's that they all read. A lot. Dani McClain, Writer-in-Residence at the Library, is no exception. 
"The book that I wrote We Live for the We: The Political Power of Black Motherhood, opens a new window came out in April, so over the course of the past few years I've been reading a lot about mothering and Black families," said McClain. "So I was reading Patricia Hill Collins, a sociologist who's written foundational work about Black family and Black feminism, Audre Lorde's Sister Outsider, [and] asha bandele's Something Like Beautiful."
Since completing her book, McClain has turned her focus to reading for enjoyment (while still choosing enlightening and thought-provoking titles) like Esther Perel's The State of Affairs, The Library Book by Susan Orlean, and The Yellow House by Sarah M. Broom
"I'm a serious Library patron," McClain emphasized. "These people who are buying books all the time...I buy books as gifts, but for my own reading, I come to the Library. 
You can check out all of the books McClain mentioned in her video by clicking the links below. 
Black Feminist Thought: Knowledge, Consciousness, and the Politics of Empowerment, opens a new window by Patricia Hill Collins 
In spite of the double burden of racial and gender discrimination, African-American women have developed a rich intellectual tradition that is not widely known. In Black Feminist Thought, Patricia Hill Collins explores the words and ideas of Black feminist intellectuals as well as those African-American women outside academe. She provides an interpretive framework for the work of such prominent Black feminist thinkers as Angela Davis, bell hooks, Alice Walker, and Audre Lorde. The result is a superbly crafted book that provides the first synthetic overview of Black feminist thought.
Sister Outsider, opens a new window by Audre Lorde 
In this charged collection of fifteen essays and speeches, Lorde takes on sexism, racism, ageism, homophobia, and class, and propounds social difference as a vehicle for action and change. Her prose is incisive, unflinching, and lyrical, reflecting struggle but ultimately offering messages of hope. These landmark writings are, in Lorde's own words, a call to "never close our eyes to the terror, to the chaos which is Black which is creative which is female which is dark which is rejected which is messy which is...".
Something Like Beautiful: One Single Mother's Story, opens a new window by asha bandele
When asha bandele fell in love with a prisoner and became pregnant with his daughter, she had reason to hope they would live together as a family. But soon after Nisa was born, asha's dreams were shattered. Her husband, Rashid, was denied parole and set to deported to his native Guyana upon release. Suddenly a statistic; a black single mother in New York City; asha kept it together on the outside while falling apart on the inside. A lyrical, astonishingly honest memoir, Something Like Beautiful is not only asha's story but also the story of thousands of women who struggle daily with little help and much against them.
The State of Affairs: Rethinking Infidelity, opens a new window by Esther Perel
For the past 10 years, master therapist Esther Perel has traveled the globe and worked with hundreds of couples who have been shattered by infidelity. In The State of Affairs she asks, why do we cheat? And why do happy people cheat? Why does infidelity hurt so much? And when we say infidelity, what exactly do we mean? Is an affair always the end of a marriage?
The Library Book , opens a new windowby Susan Orlean 
Weaving her lifelong love of books and reading with the fascinating history of libraries and the sometimes eccentric characters who run them, award-winning journalist and New York Times best-selling author Susan Orlean presents a mesmerizing and uniquely compelling story as only she can. With her signature wit, insight, compassion, and talent for deep research, she investigates the legendary Los Angeles Public Library fire to showcase the larger, crucial role that libraries play in our lives.
The Yellow House, opens a new window by Sarah M. Broom 
A book of great ambition, Sarah M. Broom's The Yellow House tells a hundred years of her family and their relationship to home in a neglected area of one of America's most mythologized cities. This is the story of a mother's struggle against a house's entropy, and that of a prodigal daughter who left home only to reckon with the pull that home exerts, even after the Yellow House was wiped off the map after Hurricane Katrina. The Yellow House expands the map of New Orleans to include the stories of its lesser-known residents, guided deftly by one of its native-born daughters, to demonstrate how enduring drives of clan, pride, and familial love resist and defy erasure.