If there's one thing 2020 has taught us, it's that our staff and community members are resilient and able to find light even when things get difficult. We asked library staff members and customers to share what they are grateful for this year. Here are a few of the many warm and inspiring responses we received.  
"I am, of course, thankful for friends and family, but I am also incredibly thankful for my work family," said Dawn Kirkpatrick, Teen Librarian at the Oakley Branch Library. "Coming to work every day and having a support system on site is valuable beyond measure. My coworkers are kind, dedicated, hard-working people who help me get through each day. I cannot imagine getting through these times without my work family."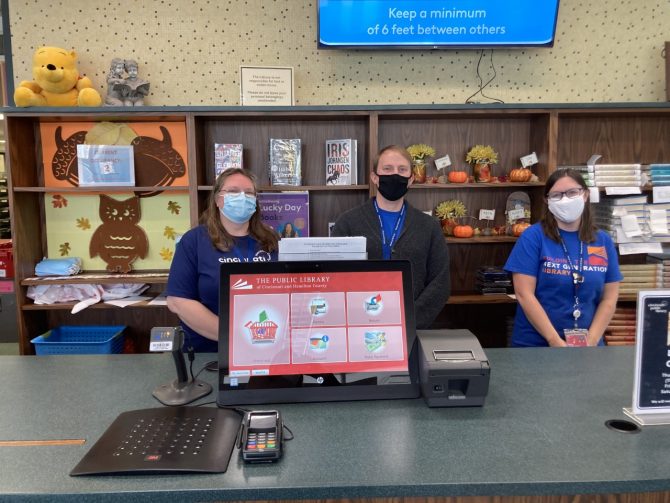 Mt. Washington Branch Library Manager Paul Burch shared similar sentiments. "Even during a pandemic, there are so many things for those of us who work at a library to be thankful for. I, personally, am thankful that I get to serve the Mt. Washington community, and that I get to do that with the phenomenal staff at Mt. Washington. They are such bright, positive, and helpful people. I am also thankful that they all have a sense of humor! My life has been enriched by their kindness, and the fact that they accept me and my dad jokes."  
Ever since Hyde Park Branch Library Children's Librarian Mary Lamping started her outdoor storytime, parents and caregivers have been sending their thanks. "They tell me it's one normal thing they can do with their kids safely," said Lamping. One mother wrote:
"Dear Miss Mary, Thank you for [your storytimes]. Jackson and Marleanna really enjoyed it today! Jackson was excited to make the turkey craft you gave out and wanted to share it with you."  
"I'm really appreciative of our regular patrons who interact with us in so many different ways: the in-person patrons who tell us they are happy to see us; the digital users who are keeping safe at home; the teachers and students who are adjusting to class visits online," said Jill Keller, Children's Librarian at the West End Branch Library.
"I'm thankful that I've always been able to live vicariously through books, because that's keeping me sane. I'm thankful for technology that keeps me connected. And I am really psyched that the Library is making it easy for everyone in the community, including myself, to get COVID tests to help make sure that I'm not spreading a virus around without knowing it. The Health Collaborative partnership is easing my mind a great deal!"
"A number of customers that came to the voter registration display in my branch came to register (or request ballots) not only for themselves but for their friends and family," said Anna Carlson, Library Services Assistant at the Clifton Branch Library, opens a new window. "It was so gratifying to see our display function as a resource for people excited about getting out the vote."
"With everything going on, it is easy to get overwhelmed with negativity," said Jesse Caldwell, Teen Librarian at the Mt. Washington , opens a new windowBranch Library. "I think it is always important to take a few moments to stop and reflect on all the positive things that surround each of us. I am thankful for all of our customers at Mt. Washington. Everyone who visits us is so happy that we are open and able to assist them again. Their smiles fill my heart and their need for assistance gives me purpose. Lately, it seems a lot of people come in as a customer and leave as our friend. I think there is a desire for 'normal' interactions and many people are just so happy to talk about anything and everything."  
"The Library's boxed meals, opens a new window for kids and families have been such a hit at St. Bernard and customers have been extremely happy," said St. Bernard Branch Library, opens a new window Senior Library Services Assistant Clarity Amrein. "So much so, we've been requesting more and more boxes every week! A customer noted, "You don't know how helpful this is for us."
"I am thankful to my Delhi work family," said Delhi Branch Library Senior Library Services Assistant April Collins. "It has been an extremely hard year for me since my father passed away in March. I don't know what I would have done without the support of both my family and my work family. They have provided support, encouragement, understanding, and laughter when I have needed it. I am thankful for the Delhi Library. I grew up with this library and spent many Saturdays looking for books with my family. I am so grateful for all that the Library stands for, and for all the services that the Library provides. I am grateful for the little things because they truly are the big things in life."  
What are you grateful for this year? Let us know in the comments below!
Our buildings will be closed for an extended Thankgiving weekend. We are closing for in-building, drive-thru, and curbside  service starting at 6 p.m. Wednesday, Nov. 25,  and will reopen at 10 a.m. Monday, Nov. 30.