Written by Elizabeth Hartlaub, Branch Manager, Mt. Healthy 
In 2018, the staff at the Mt.Healthy branch library partnered with the Facilities and Computer Services departments. Together, we collaborated to re-imagine and re-purpose the public space at the branch. This is part of the Public Library of Cincinnati and Hamilton County's Facilities Master Plan for Building the Next Generation Library.
Over the course of the next decade, the Library will make upgrades to all 41 of its branches. This will help all of our libraries deliver our services through facilities that are well-maintained, accessible, and up-to-date, re-purposing space to meet customer needs. We will be able to offer creative experiences in these spaces that play into our overall mission of connecting people to a world of ideas and information.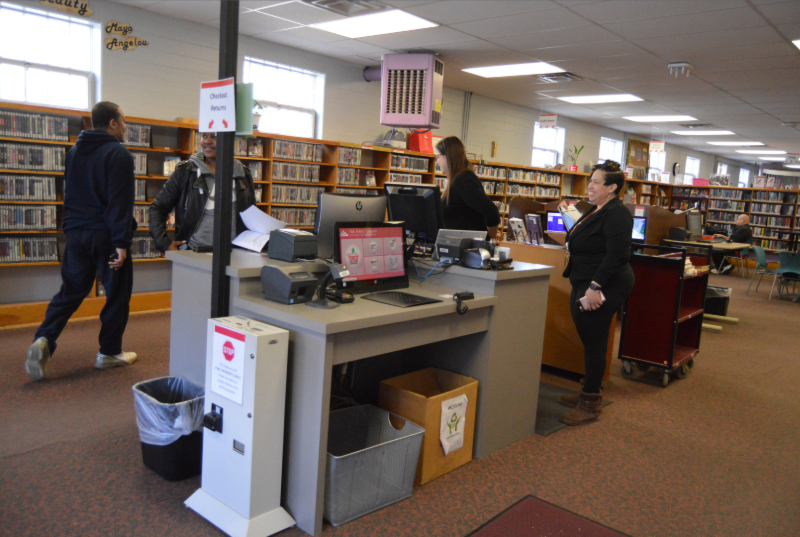 These exciting updates to the Mt. Healthy branch were recently completed as part of the project:
A laptop kiosk was installed for customers to borrow laptops for use inside the library.
The branch interior received a fresh coat of paint. 
Several freestanding shelving units were removed to open up floor space.
Staff rearranged and reorganized the collection for easier browsing.
Bulky desks were removed and replaced with new, more streamlined ones.
A new self-checkout desk was installed with a Microsoft Surface Pro Tablet docking station for staff to use at the desk or anywhere else in the building to provide more flexible customer service.
New furniture was ordered and installed throughout the branch. This included four easy chairs for quiet reading, general seating tables and chairs, PC cubicles, and fun and colorful children's tables and chairs. 
Creation of a new Teen area with mobile device charging tables.