Update on 5/9/22: Thank you for your generosity. Quilts for a Cause bidding is now closed, opens a new window.
Bring home a piece of our community's fabric and help support the Library through the Quilts for a Cause online auction, presented by The Library Foundation, opens a new window. What started with a call to all quilters and crafters during the early days of the COVID-19 pandemic resulted in more than 100 quilt squares donated to the Library.
Local quilters' guilds completed 18 unique quilts of various sizes from the donated squares. Now, these one-of-a-kind creations are being auctioned off in order to benefit critical Library services and programs, like Homework Help and summer learning activities for youth. View the quilts online., opens a new window
Thank you to the quilters for your time and talent in creating this amazing artwork! All quilts were assembled and finished by Greater Cincinnati quilters, including Quilters Garden, Cincinnati Area Longarm Quilters, and local quilter Kate Spencer.
Stitching Community Together
All of the quilts up for auction are composed of quilt squares by community members, each with their own story of why they donated to Quilts for a Cause. Here are some of the notes we received with these beautiful quilts:
"My daughter and I started learning how to quilt a couple of years ago by taking a class on how to make a quilted pillow. I wanted to donate because it was a chance to create during the shutdown and to help the library. I have always loved the library and love to read." Barbara H.
"The library is my favorite go-to place and I'm frequently there. As a result, I wanted to do something to assist the Library and help build the fund via the Quilts For a Cause."  Dee A.
"I chose to participate in the Quilts for a Cause project because I love the Library, and it was one way for me to give back for all the Library has contributed to my life. During the pandemic, I relied on the Library heavily to increase my job skills through LinkedIn Learning, enjoyed the expanded remote access to Ancestry.com, and utilized the curbside pick-up service regularly. The Library is an important resource for our community, it's so much more than books!" Treva L.
"I made a red and white heart block because the Quilts for a Cause project filled my heart with love. While our nation was going through such a difficult time, it made me feel good to do something as simple as making a quilt block that would help raise funds and awareness for our Library." Gail Z.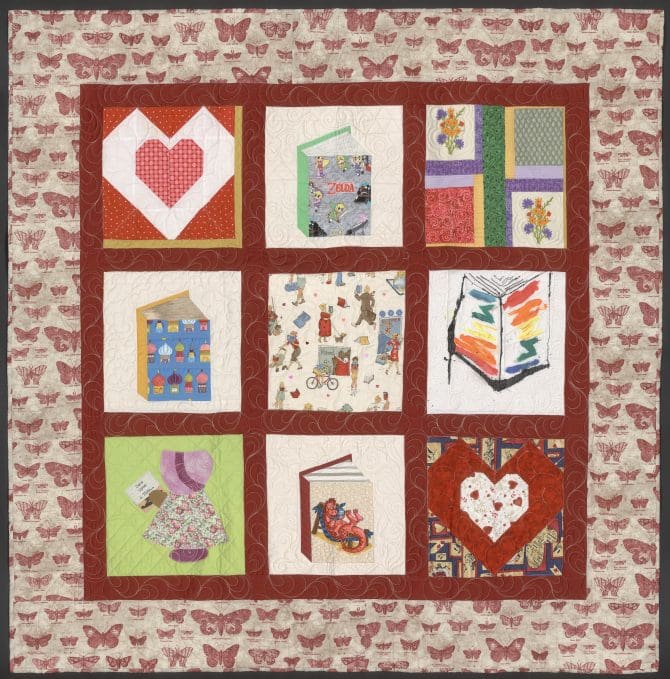 "I chose my fabric and design from a book I borrowed from the Walnut Hills Branch Library called "Wise Craft Quilts" by Blair Stocker. I am a lifelong devoted fan of the Library. I have volunteered at the Walnut Hills Branch Library, and many other branches, doing craft projects with pre-teens, and teens. This quilt was the most complex design I have ever put together. I am so happy to share a piece of it with the Library!" Nancy C.
Keep on Quilting!
Our 41 neighborhood branch libraries have quilt-related activities leading up to the auction. Decorate a paper quilt square at your branch library, view a quilt-themed Storytime at Home, opens a new window, or join a local quilting group to sew together with other community members.
The events wrap up with the Loveland Branch Library's 22nd Annual Quilt Show, opens a new window on May 7 where you can view all of the Quilts for a Cause items along with other works by community members.
Quilts for a Cause is made possible by The Library Foundation. Place your bid, opens a new window during the Quilts for a Cause auction from April 25-May 7.