Written by Emma Willig, Teen Librarian, Downtown Main Library 
As a Teen Librarian, I always dreamed of having a book club in a garden complete with tea, laughter, and great conversation. I had no idea what to expect walking into the Hamilton County Juvenile Court Youth Center, opens a new window. Known as simply, "the Youth Center", it is an eight unit, sixteen pod, 160 secure bed, county detention facility. 
I knew for sure there wouldn't be any tea, I wasn't sure yet about the laughter, but I did have a bag full of books at least. I recruited Antonio Williams, Outreach Coordinator for Councilmember Jeff Pastor, to go with me. It would just be the two of us, and a room full of teenage girls, who probably didn't want to hear what we had to say, in a place that they definitely didn't want to be.
When we arrived, the Youth Center had a similar vibe to a warehouse. I was asked not to bring any hardback books,  paper clips, or papers with staples. At the Center, there are no elevator buttons, every door is manually operated by a control room, and the uneasiness of an ever-present watchful eye seems to follow every turn of the hallway.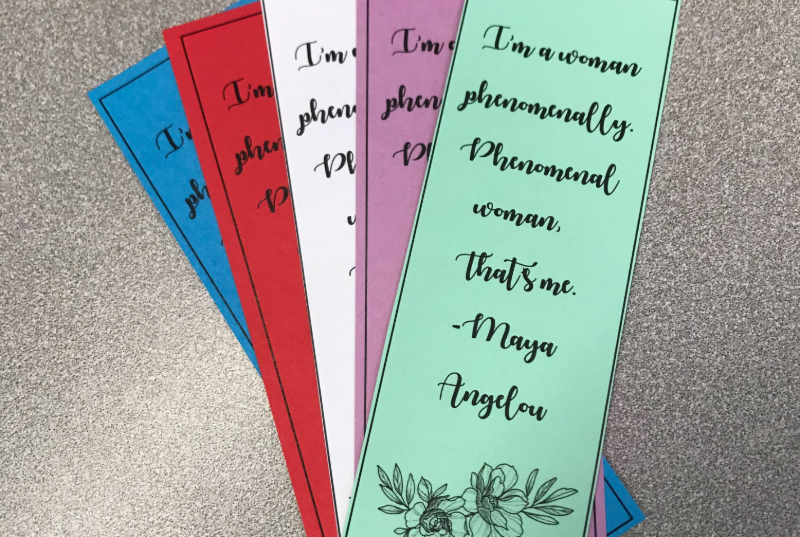 Clutching onto my bag of paperbacks, I also carried a handful of colorful bookmarks, and a couple of copies of Maya Angelou, opens a new window's "Still I Rise, opens a new window". I printed these off last minute, remembering the powerful and impactful message of the poem. My only strategy here was if for whatever reason I lost my words I would simply rely on Maya's.
When I entered the room, the girls walked in carrying their chairs, counting off as they crossed the threshold like small soldiers. A clear barrier was drawn for us by the officers in charge. Our table at the front, and the girls sitting in rows facing us, just like a classroom. The tension was palpable, and I could tell that they were used to adults coming to lecture them about their life choices.
I introduced myself and Antonio, and we started asking them simple questions. Names, ages, if they had ever been to the library, a favorite book they might have, one that they are reading now, had they ever heard of Maya Angelou. Very quickly, the barrier was broken. After thirty minutes, we felt like a group of friends chatting at tea time.
I came to understand the most obvious thing that I should have expected from the beginning: this is a group of teenage girls, with the same emotions, same worries, and same cares that I had when I was their age. School. Family. Relationships. Instagram. Hair. Making money. Trying to stay out of drama.
Since February, Antonio and I have been going twice a month to the Youth Center, and it changes every time.  Sometimes the girls are excited, sometimes they are sad, sometimes they want to sit and read, sometimes they want to talk. At times the conversation is extremely deep, at times we spend the actual hour talking about nails and eyelashes. However, one thing remains the same; we always take time to talk about books, poetry, and sometimes an inspirational quote like "The way you speak to yourself matters."
As nervous as I was to make the leap into starting this program, I knew two things: I chose this profession, and I need to make the most of it. I work at the Downtown Main Library in Youth Services. Here is a group of youth that I know does not have equitable access services. The Library stands for equal access for all members of the community, and calls on us to be a dynamic force.
The information, stories, and relationships that I build inside the Library shouldn't be confined within the walls. Equal access is equal access. My challenge is to think outside of the box for ways to allow Library services to reach all corners of our community. Maybe that means I have to be a little uncomfortable. That means I get to grow.
"Persistence" and "resilience" are words the girls and I have talked about at length. Letting our light shine, so that others may do the same. "Your playing small does not serve the world." (See quote from Marianne Williamson, and see also, Akeelah and the Bee, opens a new window *cue all the feels*).
I serve my community through the Library, using my skills, and the abundant resources and support the Library offers, in order to give back. The longer that I work here, the more I am able to provide, and the clearer it becomes to others that the Library is a standing monument of not only information, but of service, advocacy, and choice.