Written by Ashley Finke, Digital Services Assistant, Genealogy & Local History Department, Downtown Main Library
On the first Thursday of each month, our Genealogy and Local History Department "throws back" to a time in Cincinnati's history that is featured in our Library's wide-ranging collection of more than 9 million materials.
Harriet Beecher Stowe is best known for her novel "Uncle Tom's Cabin", opens a new window but her story is not one of a smooth transition to a successful author. Rather, her story is one of a rugged passage in which she struggled with her own inner demons and expectations from her religion and society.
Harriet Beecher was born on June 14, 1811, in Litchfield, Connecticut to her father, Lyman Beecher (1775-1863), and mother, Roxana Foote Beecher (1775-1816). The Beechers had 11 children and always encouraged them to pursue education, fight against injustice, and think critically about the world around them. Harriet attended Hartford Female Seminary with her sisters, Mary and Catharine, as her educators, receiving a traditional education in classics, language, and mathematics. At Hartford Female Seminary, Harriet advanced her writing talents, spending many hours composing essays.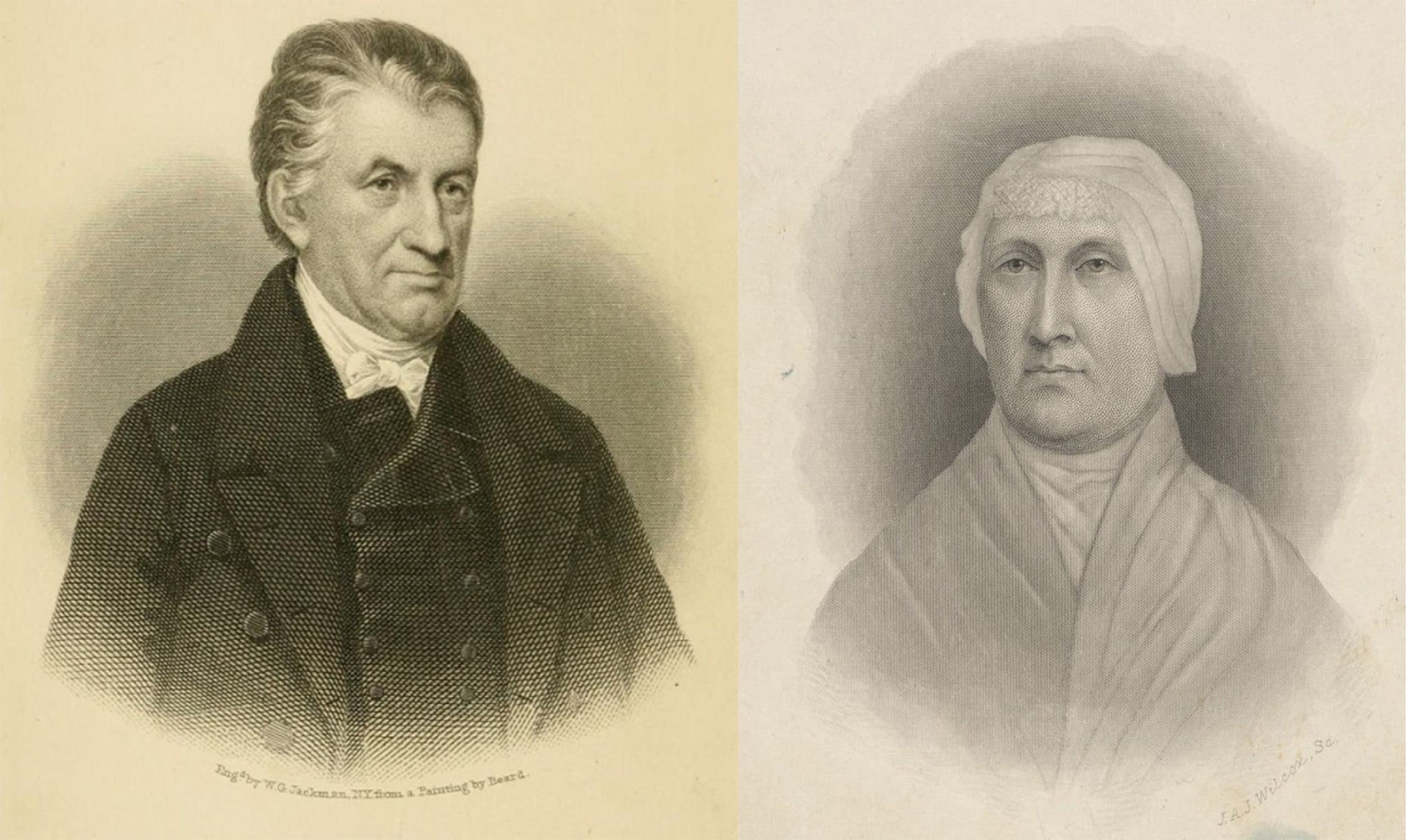 Joining the Abolitionist Movement in Cincinnati
Lyman Beecher became the president of the Lane Theological Seminary, and the Beechers moved to Cincinnati when Harriet was 21 years old. The 18 years Harriet spent in Cincinnati encompassed her literary apprenticeship, her marriage to Calvin Stowe, and the birth of six of her seven children. Being a writer himself, Calvin encouraged Harriet to pursue her literary career and abolitionist work. In Cincinnati, Harriet would experience true heartbreak from the loss of her son Samuel to cholera. Later, she would credit this loss with being able to empathize with the sorrow of enslaved mothers having their children ripped from them and sold at auction at the slave markets.
Because of Harriet's publication of "Primary Geography for Children" in 1833, the Beecher sisters were invited to join the Semi-Colon Club. This was Cincinnati's premier literary club of the time and included members such as Caroline Lee Hentz, Salmon P. Chase, Emily Blackwell, and others. Harriet later published some of the writing she composed during her time in the Semi-Colon Club in a publication called "The Mayflower."
In 1834, a free speech debate was held at Lane Seminary to debate the institution of slavery. Abolitionists took the stance slavery was a sin to human nature and must be immediately stopped. She also argued Black people must be given equal opportunity and civil rights post-emancipation. This heightened the tension in Cincinnati, where mobs of pro-slavery activists regularly attacked innocent people and abolitionists in protest. As abolitionists were attacked, mobbed, and often murdered, Harriet was drawn to the movement and engaged herself in defense of free speech.
America Reads "Uncle Tom's Cabin"
Living in Cincinnati on the border of Kentucky, a slave state, exposed Harriet to the horrors of chattel slavery. While visiting an open-air market in Kentucky, Harriet witnessed a slave auction where a mother was separated from her child. This heart-wrenching incident brought Harriet face-to-face with slavery's hard truths and what it was like to live as a person of color in America.
Harriet and Calvin moved to Brunswick, Maine, where Calvin became a professor at Bowdoin College. The Stowes were exposed to the Underground Railroad network from their time in Cincinnati. Living in a free state, their home was an open refuge as escaping enslaved people fled to Canada. These interactions inspired Harriet to use her writing to do abolitionist work. Harriet began writing a series of installments for "The National Era" newspaper published between June 5, 1851, and April 1, 1852. These installments would be compiled into what we now know as "Uncle Tom's Cabin."
Published on March 20, 1852, "Uncle Tom's Cabin" sold 300,000 copies in its first year of publication. Written to push abolition and expose the horrors of chattel slavery to the masses, Harriet believed America had lost its way by exploiting human beings for free labor. "Uncle Tom's Cabin" captures the human element of enslaved people, showing the power of the human spirit and exposing the victimization of enslaved people as dehumanizing. The novel sparked much debate and opposition in the South, where Harriet was portrayed as out of touch, arrogant, and slanderous.
"I had a real funny interview with the President."
After the Civil War, President Abraham Lincoln invited Harriet to the White House. Their interaction has been debated throughout history. A persistent rumor is Lincoln said, "So you are the little woman who wrote the book that started this great war." Meanwhile, her account of the interaction with her husband was vague. She told Calvin, "I had a real funny interview with the President."
It should be noted that even though "Uncle Tom's Cabin" is her most famous work, Harriet wrote 30 books and publications that drew on the politics and experience of women's culture and directly challenged societal norms with race, class, religion, and gender.
Around 1870, the Stowe family bought the property in Mandarin, Florida. Harriet wrote about her life there, promoting Florida to Northerners in a piece called "Palmetto Leaves." Besides writing about life in Florida, she helped establish a church and founded an integrated school in Mandarin for children and adults. This school was one of the first in the nation to integrate different races into one school.
Her husband, Calvin Stowe, passed away in 1886, and Harriet's health declined soon after his passing. She had dementia and at 77 years old, she started rewriting "Uncle Tom's Cabin" word for word from memory. Harriet Beecher Stowe passed away on July 1, 1896, at the age of 85, in her home in Hartford, Connecticut. She is buried at Phillips Academy Cemetery in Andover, Massachusetts.
More to Explore
Follow in the footsteps of our Genealogy & Local History Department in their journey to tell the story of Harriet Beecher Stowe and the Beecher Family through our Digital Library, opens a new window, library catalog, opens a new window, and resources used to inform this month's Throwback Thursday post:
Uncle Tom's Cabin, Or, Life Among the Lowly

Harriet Beecher Stowe | Biography, Books, & Facts

, opens a new window

. Encyclopedia Britannica. 
Our Rich History: Harriet Beecher Stowe lived in Cincinnati, was member of the Semi-Colon Club

, opens a new window

. NKyTribune. 
Writers of the First Coast: Harriet Beecher Stowe

, opens a new window

. The Jaxson Magazine. 
Biographies | Beecher, Lyman. The Arda. 
Lyman Beecher.

, opens a new window

Ohio History Central.
Beecher-Stowe Family Papers, 1798-1956

, opens a new window

. Harvard University. 
Read more Throwback Thursday blog posts from our Library's our Geneology and Local History Department and visit our Digital Library for high resolution digital access to our rare print materials, especially those of local significance.