Written by Joe Armstrong, Content Specialist, Marketing, Downtown Main Library
Is school starting already? Time flies when you're having fun – and learning, too! Discover Summer, opens a new window, CHPL's summer learning program, was full of new events, experiences, and plenty of prizes. Before we dive into fall, let's take a look at one of the best summers yet.
34,263 Kids and Teens Joined in Discover Summer
So many kids and teens picked up their Discover Summer activity booklets, they could fill TQL Stadium and still have more than 12,000 waiting to get in. This year's activity booklet is still available on our website, opens a new window if you want to try out the activities inside!
23,105 Kids and Teens Got Free Books
Anyone 18 and under who visited one of our 41 neighborhood branches during their Discover Summer adventures got books to keep like The Very Hungry Caterpillar, Family Reunion, CeCe Loves Science, The Great Pet Escape, Ikenga, and The Golden Compass. With a free CHPL child-only or teen-only library card, there are even more great books, audiobooks, movies, and more are available to borrow anytime. Apply for a library card online, opens a new window or in-person at a branch near you, opens a new window.
12,663 Kids and Teens Ate Free Meals and Snacks At Our 41 Neighborhood Branches
All that learning worked up an appetite. Thanks to our partners at UMC Food Ministry, more than 12,000 free meals and snacks were distributed across Hamilton County at our library locations. Free meals are still available Mondays through Fridays after school for youth at select neighborhood branches, opens a new window.
1,792 Programs and Events for Kids and Teens
LEGOs, arthropods, bubbles, music, rockets, and more were common sights across CHPL all summer long. But the fun doesn't stop with summer – check out the fun events for kids and teens, opens a new window happening throughout fall. Did someone say Life-Sized Candy Land, opens a new window?
497 Lucky Winners Won Grand Prizes
More than three times the number of kids and teens completed their Discover Summer goals compared to last summer, entering them for some awesome grand prizes. At CHPL we don't just give out one grand prize – there were almost 500 winners in our Discover Summer prize raffle. Learners won tickets to Kings Island, Beats® Flex Wireless Earphones, LaRosa's gift cards, and many more fun prizes!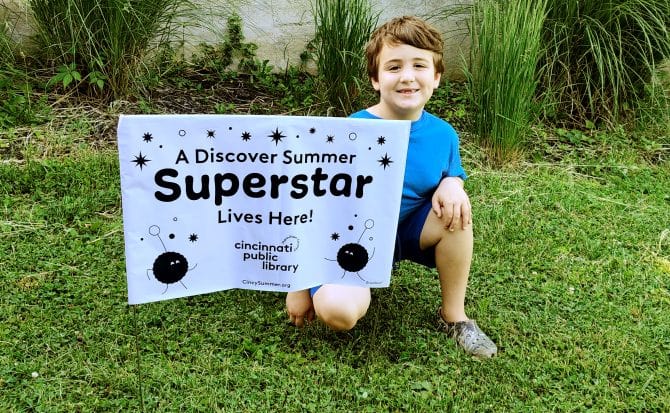 "Discover Summer program is made possible through direct support, opens a new window from The Library Foundation and our many donors who made a summer full of programs, experiences, and resources possible to inspire kids and teens. We are grateful for the generosity that supports young learners across Cincinnati and Hamilton County," Staci Dennison, The Library Foundation, opens a new window's Thomas W. Jones Executive Director.
What was your favorite part of Discover Summer? Let us know in the comments below!