It turns out John Steinbeck's The Grapes of Wrath, opens a new window, Harry Potter, opens a new window, The Communist Manifesto, opens a new window, Toni Morrison's Beloved, opens a new window, The Great Gatsby, opens a new window, To Kill a Mockingbird, opens a new window, and Salman Rushdie's The Satanic Verses, opens a new window, all have a least one thing in common. Despite being written in different eras by different authors, they're all banned books. 
September 22 kicks off the American Library Association's (ALA) Banned Books Week, opens a new window. Established in 1982, Banned Books Week underscores the importance of people having access to books from all points of view. This year's theme "Censorship leaves us in the dark" highlights how shutting down discussion only ends up spreading fear, distrust, and ignorance. The take away: "Keep the light on." 
"These challenges pose a threat to freedom of speech and choice," said the ALA. "Freedoms that American's hold dear and are worth standing up for." 
So why do books get banned from classrooms, public and school libraries, and sometimes bookstores or whole societies? Some of the most common reasons, especially in books geared for children and young adults, are profanity, sexually explicit or educational content, racism, books that portray LGBTQ+ characters, violence, suicide, substance use, and books that challenge religious or political beliefs. What is considered offensive varies from community to community. 
Reading banned books allows all people to engage in the important task of critical thinking. It allows us all to form our own opinions and values based on the content. Reading a book that's often considered "classic literature" allows us to critique the norms of the past or perhaps see how they are still reflected in the present. Reading a book that features characters whose experiences are different from our own is a proven way to build empathy. 
Studies have shown that the more children and teens see authentic depictions of themselves and their experiences reflected through books, the more they feel seen and capable of dealing with difficult topics. 
In 2018, over 483 books were banned in states, cities, and towns for a variety of reasons. The ALA collected a list of the 11 books that were banned more frequently than any other titles. And guess what? We have them all. Just click the link to reserve your copy and celebrate your freedom to read!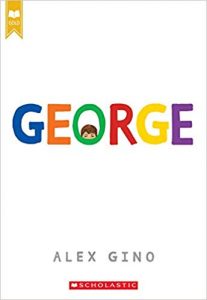 George, opens a new window by Alex Gino
Reason banned: Featuring a transgender character 
A Day in the Life of Marlon Bundo, opens a new window by Marlon Bundo with Jill Twiss
Reason banned: LGBTQ+ characters and themes, political and religious viewpoints 
The Captain Underpants, opens a new window series by Dav Pilkey 
Reason banned: LGBTQ+ characters, foul humor, encouraging disruptive behavior
The Hate U Give , opens a new windowby Angie Thomas 
Reason banned: Profanity, sexuality, substance use, and accusation of being "anti-cop"
Drama, opens a new window by Raina Telgemeier
Reason banned: LGBTQ+ characters and themes
Thirteen Reasons Why, opens a new window by Jay Asher
Reason banned: Teen suicide 
This One Summer, opens a new window by Mariko Tamaki and Jillian Tamaki
Reason banned: Profanity, sexuality, and graphic illustrations
The Skippyjon Jones , opens a new windowSeries by Judy Schachner
Reason banned: Depicting cultural stereotypes 
The Absolutely True Diary of a Part-time Indian, opens a new window by Sherman Alexie
Reason banned: Profanity, religious viewpoint, and sexuality 
This One Day in June, opens a new window by Gayle E. Pitman
Reason banned: LGBTQ+ characters and themes
Two Boys Kissing , opens a new windowby David Levithan
Reason banned: LGBTQ+ characters and themes