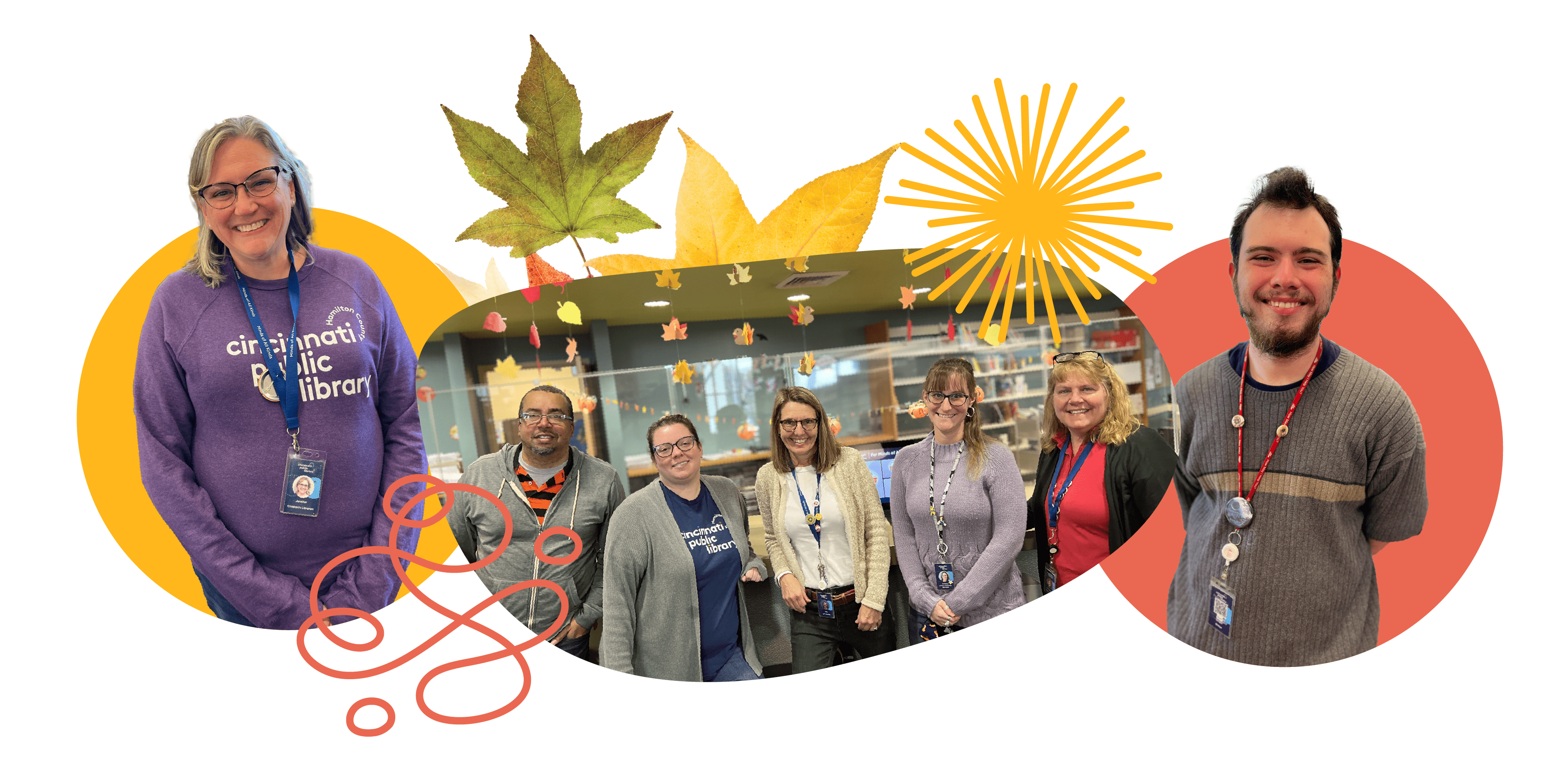 As we celebrate this season of gratitude, the entire Cincinnati & Hamilton County Public Library staff is taking the time to say thank you to all our customers and reflect on the past year! Here are some of the warm messages from across the Library: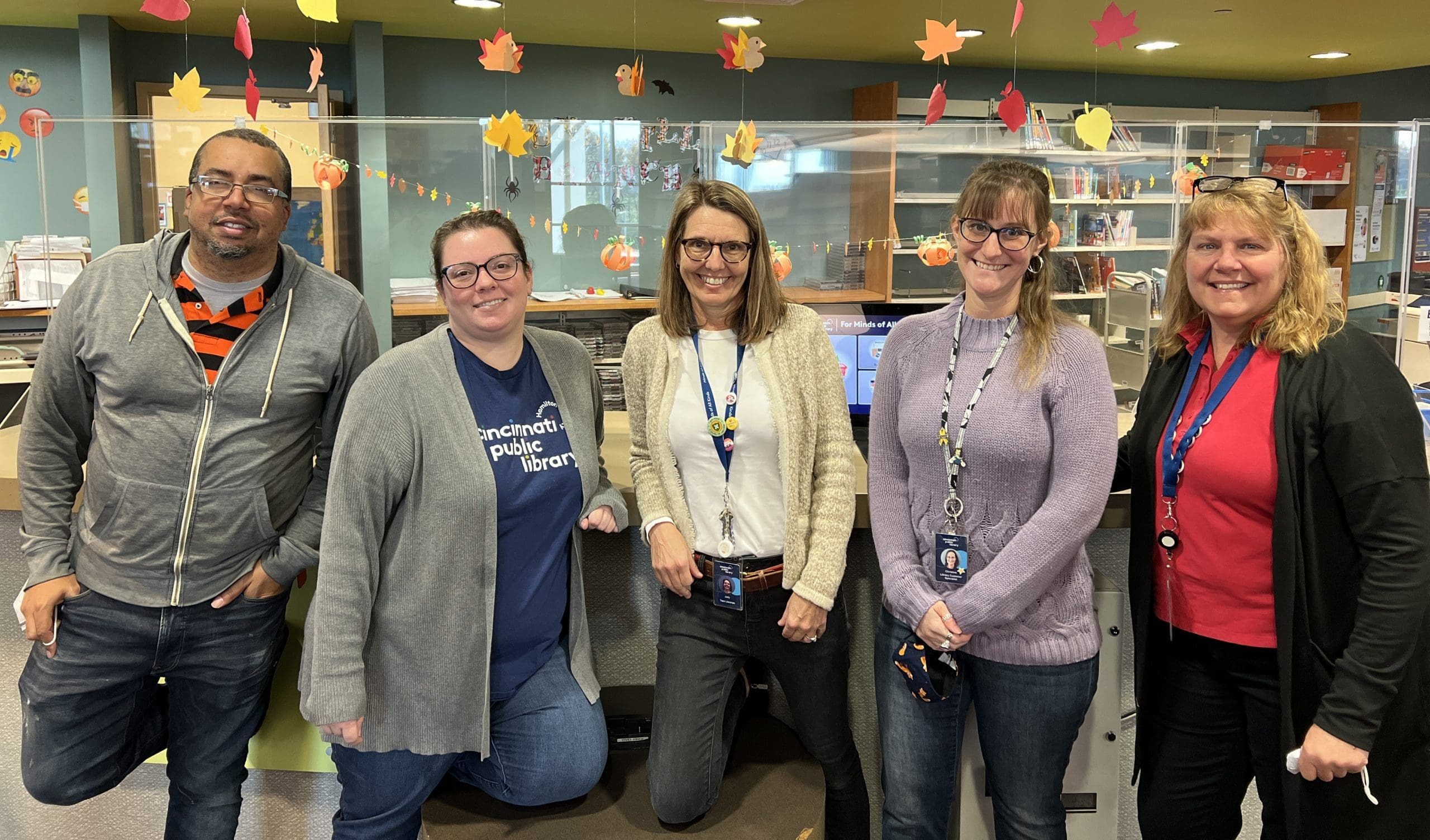 "I'm grateful for having the Library open and available for customers and that there are so many wonderful books in the world to read!"
Christine Mercurio, Library Customer Specialist, Bond Hill Branch Library
"I'm grateful for our wonderful team!"
Melissa Davis, Branch Manager, Bond Hill Branch Library
"I'm so grateful for my family and the customers and staff at CHPL."
Tom Gardner, Branch Manager, Wyoming Branch Library
"I'm very grateful for the many community organizations and government agencies that come together and join CHPL to better serve the community. In a year that has been very challenging it is inspiring to know that there are so many organizations out there doing good and fostering a collaborative spirit in the process. There are too many to name, which is a good problem to have!"
Beth Yoke, Chief Strategy Officer, Downtown Main Library
"I'm thankful for the chance to be working at the Library and make an impact on people's lives – whether or not they're a stranger or a longtime customer."
William Zappone, Shelver, Reading Branch Library
"I'm extremely thankful for my family, friends, and their continued good health"
Christopher Smith, Reference Librarian, Genealogy & Local History Department, Downtown Main Library
"I'm thankful to be working for the Cincinnati and Hamilton County Public Library and serving in my role as the Shipping and Receiving Manager by overseeing the distribution of COVID-19 tests to our customers. I'm thankful that I'm able to help our community."
Matt Todd, Shipping & Receiving Manager, Distribution Center
"I'm thankful for all the smiling kids I get to see when I present storytimes at schools."
Sharon Chittock, Youth Librarian, Downtown Main Library
"I'm thankful for friends, family, and fabulous coworkers at CHPL."
Brian Kuhl, Maintenance Technician, Downtown Main Library
"I'm thankful for serving such a wonderful community and being able to help customers with finding resources, COVID-19 tests, or solving their problems – big or small."
Laura Rosero, Library Customer Specialist, Reading Branch Library
"I'm thankful for all my friends and family."
Corey Gibson, Techcenter/MakerSpace Team Leader, Downtown Main Library
What are you thankful for that cheers you up when you feel down?
"I get cheered up when I see all the holds popping up on new materials. It's so good to see that the community is looking forward to visiting their local branch to pick up new books, DVDs, and more!"
Michael Christian-Budd, Cataloging & Processing Manager, Downtown Main Library
What is something good you've seen in your community?
"I'm grateful for the Norwood Community Coalition which meets monthly. This incredible group of people work together to provide for the needs of Norwood residents. Some of the members include Norwood Ready Kids, Dress for Success, Prevention First, First Baptist Church Pantry Ministry, Resurge Recovery, Baby Bear, and of course The Library, just to name a few. I'm inspired by their goodness and kindness!"
Katheryn Toren-Jones, Branch Manager, Norwood Branch Library
What is a random act of kindness you've seen from another person?
"Both last year and this year, a customer at the Pleasant Ridge Branch knitted a couple dozen children's scarves for us to distribute with our weekly snack boxes the Monday prior to Thanksgiving. This year the scarves included small notes with messages of kindness. Customers receiving meal boxes are surprised and touched by this gift of time and warmth for their children."
Jennifer Korn, Branch Manager, Pleasant Ridge Branch Library
All Library locations will be closed on Nov. 25 in observance of Thanksgiving, but books, movies, and more are be available to borrow on the Library's Stream and Download, opens a new window page.
From the entire CHPL team, we are so thankful for you, our customers, and the opportunity to serve our community. Have a safe and happy holiday!