Written by Joe Armstrong, Content Specialist, Marketing, Downtown Main Library
When people hear the word "library" a few things typically come to mind, namely librarians and books. But a library is run by people working in many different roles. They're all helping community members with much more than book recommendations. Our series Spend a Day with a Library Worker, opens a new window takes you inside the lives of our library staff in different roles and follows them on a typical workday.
When you pass through the front doors of the Reading Branch chances are you'll be greeted with a friendly smile from Library Customer Adviser Darlene Ertel. Armed with an encyclopedic knowledge of the Library's services and an energetic drive to solve problems big and small, she's at home helping customers find what they're seeking.
Lifelong Love of Reading
Darlene's journey to CHPL began with her love of reading. "It's really my passion and my favorite thing to do. The library has always been my happy place ever since I was a kid. My mom even wrote in my baby book that I loved anything to do with books," she said. "My dad had a construction business and I would go with him to job sites as a kid. But I wouldn't have anything to read so I would end up reading the owner's manual for his truck because I just needed something to read and just loved taking in information."
Growing up in Indiana, she often ventured into Ohio to use CHPL's large collection of books. "I received my first library card with the Cincinnati & Hamilton County Public Library at the Harrison Branch. Since I was an Indiana resident at the time I had to pay for the card, but I gladly paid for a non-resident card, opens a new window to have access to all of these books!"
After moving to Cincinnati, she was determined to turn her passion into a career and joined CHPL as a Library Customer Advisor. At the Reading Branch, Darlene navigates the many aisles of books, movies, and music with the same energy and excitement as a scientist who just made a breakthrough.
"Oh my gosh! Look at this! I may need to take a look at this later," she said, after noticing a new book just brought into the branch.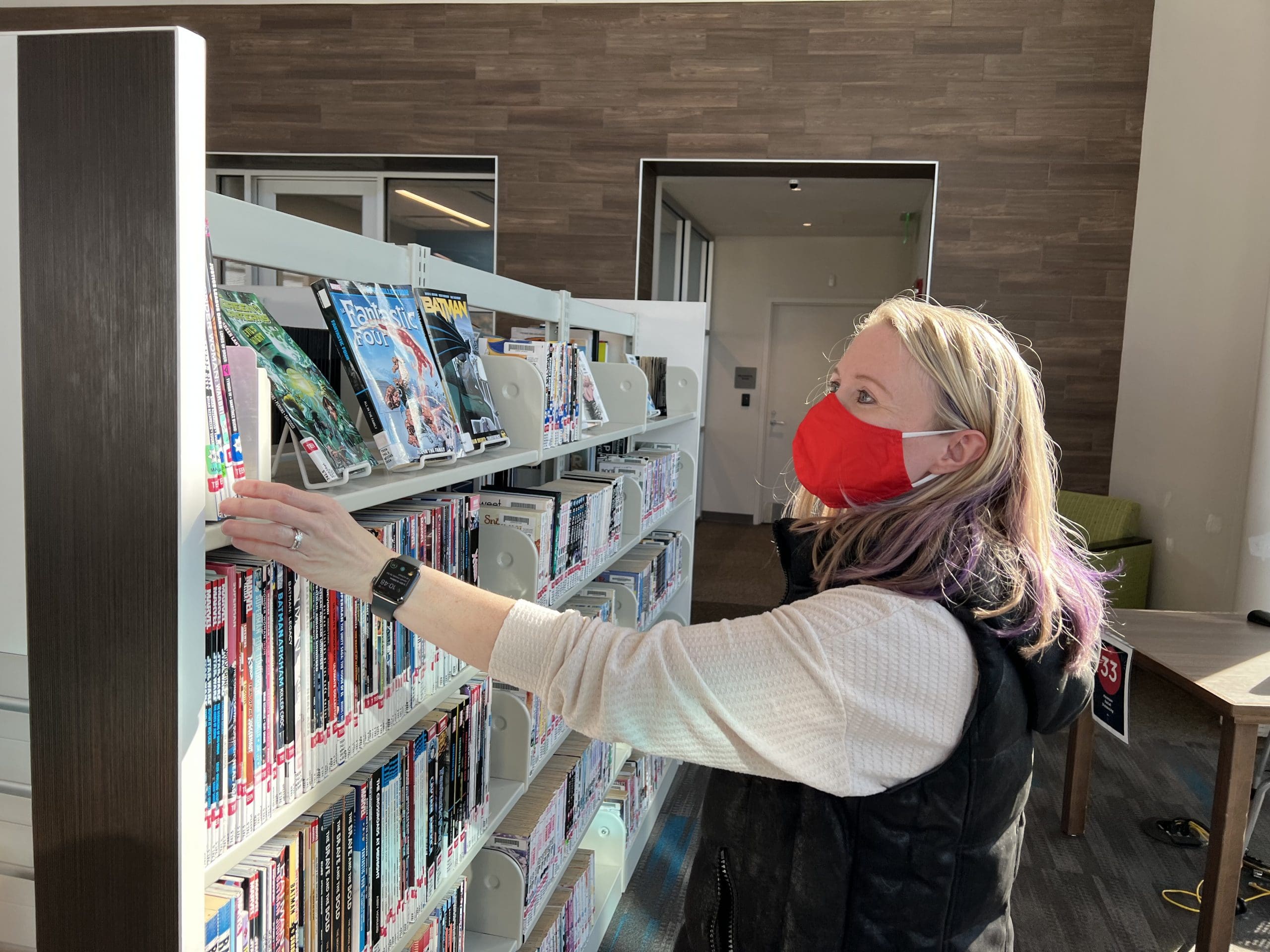 "Aside from our wonderful customers, I'm the most excited to see the Library's fantastic Shipping & Receiving Delivery team, opens a new window delivering dozens of red bins containing the latest requests from customers. It's so great to know all of these new materials have arrived for customers to explore."
Connecting with CHPL Customers
Customers are always at the center of Darlene's day. "The customers here are why I love my job," she said. "I'm able to help people find what they're looking for to solve their problems. I love meeting new customers and have treasured the connections I've made with customers who have been coming in regularly for years."
As a Library Customer Adviser, Darlene assists customers with any questions they may have, and often in unexpected ways. "Especially during the pandemic, we're assisting customers in new and different ways. At the beginning of the pandemic, I was often answering questions over the phone and online rather than in person."
"How to access and use technology is often a need from customers. In fact, one of my favorite examples is when a customer almost had to miss an important meeting over Zoom because they weren't able to have the speakers work correctly. I was able to assist the customer in fixing the issue, and the customer was able to continue with their meeting without a problem. 'You just saved the day,' I remember them saying, 'I don't know what I would've done without your help.' It's especially times like these I love working here." (The Library offers study rooms, opens a new window that are great for online meetings.)
The Library as a Gathering Space for the Community
During her time at the Reading Branch, Darlene has connected with customers and community groups who regularly visit and use its services. "There is just so much here for the community. We have a drive-thru window, a Mini MakerSpace, opens a new window, a children's play space, multiple study rooms, computers, a quiet room, a large community room, and of course lots of books, movies and music."
But Darlene says that although the Reading Branch provides so many resources, the real treasure is the community that uses them.
"People always ask what makes the Reading Branch so special and I always say it's the customers. They are why we are here and I look forward to them each day I come to work."
Interested in becoming a CHPL Library Customer Adviser? Check out our current job openings, opens a new window.