Written by Joe Armstrong, Content Specialist, Marketing, Downtown Main Library
Bring your phone, tablet, Kindle, or laptop to CHPL's Tech Days events for help with the Library's apps and online resources, such as Libby, our app for borrowing and reading eBooks.
Our friendly, knowledgeable staff will suggest free apps or online resources that meet your interests, help you set up your device, then share tips so you feel confident using the resources on your device.
Come for attentive one-on-one help. Stay for the free refreshments!
Come to a Tech Day hosted near you.
Why Should You Attend Tech Days?
You already use Audible, Netflix, and other streaming services, and want to use the Library's apps, too.
With 150+ apps and online databases, you aren't sure where to start! Describe your interests and our staff will suggest a few apps and online resources.
You have a new device...or one you have been meaning to start using!
You have been using of the Library's apps, online resources, or databases but would like to "level up" your knowledge with pro tips.
You want to be prepared when the OverDrive eBook app is discontinued on April 30. Library staff will help you upgrade to the new Libby app, show you how to use the app, and sync your OverDrive wish list with the Libby app.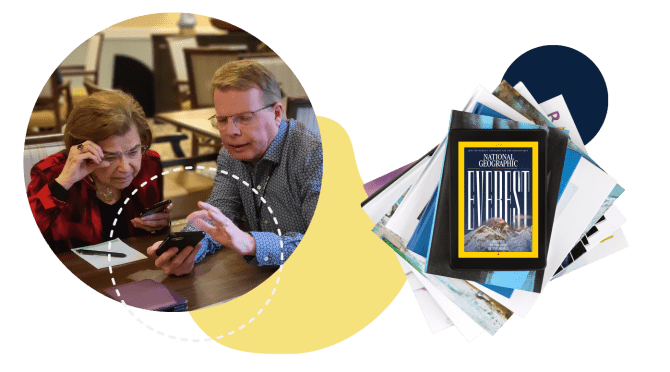 CHPL's Most Popular Apps
Free library apps and digital resources make it easy to read eBooks and audiobooks, watch streaming movies and more—anywhere.
Select from more than 150 apps, online resources, and research databases, including these customer favorites:
Don't have your own device? We'll show you how on the Library's computers which are always free to use! Don't have a free library card? We can take care of that, too!
Find a Tech Day hosted near you. Not able to attend one of the events? Try the Library's free Ask a Librarian service to connect by chat, phone, email or one-on-one appointment.