Written by Natalie Long, Remote Reference Librarian, Virtual Information Center, Downtown Main Library
Reading your favorite eBooks at the Cincinnati & Hamilton County Public Library is about to get easier and more exciting.
Starting May 1, 2023 customers using OverDrive to read eBooks on their Android or iOS devices need to switch over to the new app, Libby, opens a new window.
Update May 31, 2023: Libby is now available for customers using OverDrive on their Amazon Fire tablets. The OverDrive app will be removed from the Amazon Appstore on June 7, 2023. Visit the Libby website for more information on how to make the switch.
Libby is an easy-to-use app with everything you like about OverDrive, but with even more features to explore. Libby allows for simple, customizable reading, the ability to export notes and highlights (perfect for book clubs), tags to track your favorite reads, wish lists, and more.
Download the Libby App and Start Exploring
Libby is where you can check out eBooks, eAudiobooks, and eMagazines on the go with your mobile device or at home using an internet browser.
Never lose your spot as your reading progresses since loans and bookmarks sync across your devices. Take your reading adventure off the grid as Libby provides offline access, allowing you to download eBooks and audiobooks.
Frequently new features are added, such as assistive technology support including screen readers and voice control, and accessibility features allowing for large-print, lighting options, and font customizing, including OpenDyslexic.
Start discovering with Libby by downloading the app, opens a new window or using your browser, opens a new window.
Attend a Tech Day for Help Installing Libby
Need a helping hand installing Libby or any other CHPL apps? Bring your phone, tablet, Kindle, or laptop to CHPL's Tech Days events for help!
Our friendly, knowledgeable staff will help you set up Libby and share tips so you feel confident using Libby on your devices.
Come to a Tech Day hosted near you.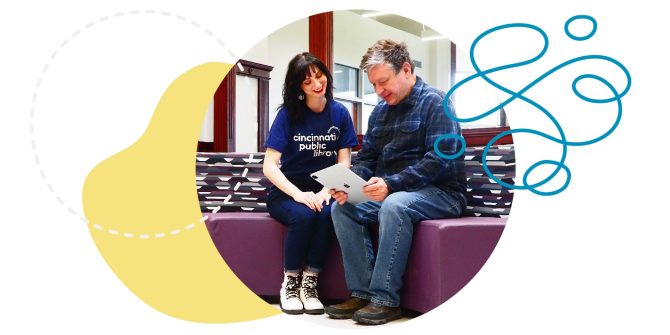 What Happens Now If I'm Using Overdrive?
Starting on Feb. 23, 2022 the OverDrive app was no longer available to download. If you currently use OverDrive on your iOS or Android device, you need to download Libby as OverDrive is officially discontinued on May 1, 2023.
If you have questions about using Libby, Ask a Librarian, opens a new window.