Written by Ann Driscoll, Senior Library Services Assistant, Downtown Main Library 
With people all across the world turning to streaming platforms like Netflix and Hulu for comfort during social distancing measures, it seems especially timely to spread the word about Kanopy, opens a new window, the free movie streaming platform offered to Library cardholders. 
As a longstanding fan of this unsung resource, I am especially passionate about singing its praises now. And since the Library closed its 41 locations to the public in March, we've seen Kanopy use increase by more than 400%, so I'm clearly not alone! Now more than ever, Kanopy is a must for movie lovers, and fans of thoughtful content in general.  
Given the ocean of content already available online, Kanopy, opens a new window sets itself apart through the quality and variety of its content. Whereas other services prioritize binge-worthy TV, Kanopy's offerings of over 30,000 titles emphasize arthouse, documentary, international, and classic cinema as well as a wide breadth of educational and children's programming. 
The platform enables film buffs to comprehensively explore genres and filmmakers by offering multiple influential titles within a given genre or an important director's filmography. 
For example, the catalog of legendary documentarian Frederick Wiseman, as well as ample selections from German expressionist director Fritz Lang's filmography, are available through Kanopy. Arthouse studios/distributors like A24 (Moonlight, The Bling Ring), Oscilloscope Laboratories, and Kino Lorber cumulatively offer over 1,000 titles through Kanopy. 
In keeping with the company's origins as a start-up in the educational sector, Kanopy, opens a new window is also chock-full of educational content. For example, I just watched the highly topical multi-part lecture series, An Introduction to Infectious Diseases, which is part of the Great Courses collection — a series that encompasses over 6,000 educational videos covering a variety of subjects from science to history to the arts. Other educational offerings include ESL instructional videos and Kanopy Kids' collection of foreign language learning videos for children. 
Live theatrical performances are also available through Kanopy. For example, if you want to see Pavarotti in the 1985 production of Verdi's opera, Aida, now's your chance. In addition, filmed-for-TV adaptations of Shakespeare's plays abound, including the Patrick Stewart-starring version of Macbeth from 2003.  
I'm not even scratching the surface on the breadth and depth of the collection.  
One of the reasons why Kanopy, opens a new window is so refreshing is that it feels like it's curated by thoughtful human beings instead of algorithms. Its interface doesn't have features like auto-playing previews, and it promotes engagement by allowing users to write and respond to reviews. And perhaps best of all? No monthly debit on your bank account. 
Granted, Kanopy does not allow totally unlimited watching, although they've made over 50 titles credit-free for unlimited watching. Each month, you are allotted 20 credits to use per title. Kanopy's website describes how the credit system works: 
To use a play credit, you must press play on a video and have the video play for at least 5 seconds.
Once a play credit is logged, you will have a full 3 days (72 hours) to watch the video as many times as you would like without using another play credit, even if a new month starts and your credits reset.  
Kanopy , opens a new windowis also compatible with mobile devices.  
The bottom line is if you're looking to stumble upon a thoughtful feature film, documentary, or lecture, your chances of success are high on Kanopy, opens a new window.
Here is a small sample of some of the great titles I've discovered over the past several months (bearing in mind that my favorite genres are thriller, indie, and LGBT):  
THE SOUVENIR (2019, Joanna Hogg)  
Directed by British auteur Joanna Hogg, this impressionistic, coming-of-age story largely takes place in a posh London flat in the early 1980s. The semi-autobiographical plot follows a love affair between an upper-class young film student about to blossom as an artist (Honor Swinton, Tilda's daughter) and a once-accomplished older man who feels defeated by life. The film explores profound themes and emotions through small, intimate gestures. Muted, elliptical, and defiantly specific, Hogg's filmmaking style is all her own.  
Related titles on Kanopy: Hogg's three prior films, Archipelago, Unrelated, and Exhibition; Lady Bird (2017, Greta Gerwig) is another coming-of-age film by a singular female filmmaking voice. 
ARCTIC (2018, Joe Penna)  
Danish actor Mads Mikkelsen plays a man trying to survive in the Arctic after his plane crashes. A minimalist survival tale, the movie delivers the action-adventure goods as it shows how he uses his ingenuity to catch fish, fight off polar bear attacks, and brave the elements without losing his humanity or compassion. In essentially a wordless, one-person story, Mikkelsen is expressive and captivating — both genteel and plausibly rugged in the role.  
TWO EVIL EYES (1990, George Romero, Dario Argento)  
Cleverly scripted, well-acted, one-hour Poe adaptations by horror maestros George Romero and Dario Argento, these are faithful to the spirit of Poe's short stories but also bear the stylistic and thematic signatures of their two directors. Romero tackles "The Facts in the Case of M. Valdemar," while Argento adapts "The Black Cat." Donning a beret and a boozy grimace, Harvey Keitel is superb as an egotistical, abusive artiste in the latter.  
Related titles on Kanopy: Dead Ringers (1988, David Cronenberg) and Suspiria (1977, Dario Argento) are two other auteurist horror classics. 
THE VIETNAM WAR (2017, Ken Burns, Lynn Novick)  
I'm not sure documentary films can get better than this 17+hour series. With an eerie synth score by Atticus Ross and Trent Reznor and a soundtrack featuring era-defining rock and folk classics, the film evokes the turbulence of the time period while truly bringing history alive. The perfectly curated archival footage, analytical sweep of the historical narrative (voiced by Peter Coyote), and insightful talking head interviews with those on all sides of the conflict create an unforgettable, emotional, and informative experience. 
Related titles on Kanopy: Vietnam documentaries, In the Year of the Pig: Origins of the Vietnam War (1968, Emile de Antonio); Dick Cavett's Vietnam (2015, John Scheinfeld).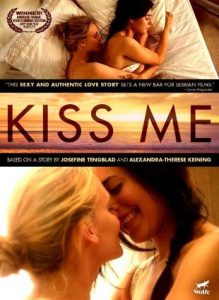 KISS ME (2011, Alexandra-Therese Keining) 
The picturesque Swedish countryside setting, sensitively chosen score, and au natural chemistry between the leads — Ruth Vega Fernandez and Liv Mjones — make this coming-out romance a cut above the rest and transcend some of its plot contrivances.  
Related titles on Kanopy: International LGBT romances: Tell it on the Bees (UK, 2018, Annabel Jankel); Summer of Sangaile (Lithuania, 2015, Alantė Kavaitė).  
SUDDEN FEAR (David Miller, 1952)  
Joan Crawford and Jack Palance star in this terse, economical noir about a hoodwinked heiress and her untrustworthy new husband. The black-and-white cinematography captures the luxe San Francisco setting to gorgeous effect, Crawford is appealingly vulnerable, and a major plot point hinges presciently on technology in a way that resonates with today's culture of constant phone surveillance.   
Related titles on Kanopy: Bob the Gambler (1956, Jean-Pierre Melville); Dial M for Murder (1954. Alfred Hitchcock).  
THE KILLING OF A SACRED DEER (Yorgos Lanthimos, 2017)  
Another pitch-black absurdist comedy and ultra-violent morality play from Greek director Yorgos Lanthimos (The Favourite), this stars Colin Farrell and Nicole Kidman as two upper-crust doctors being menaced by an entitled, aggrieved teenager Barry Keoghan. Filmed in Cincinnati, the movie features evocative images of depopulated cityscapes and antiseptic hospital corridors, while its themes explore the thin line between civilization and barbarism. 
Related titles on Kanopy: Yorgos Lanthimos' three prior movies The Lobster, Dogtooth, Alps.