Bryan Stevenson, founder of the Equal Justice Initiative, opens a new window and our inaugural Stern Lecture Series Speaker once said, "No one should be defined by the worst mistake of their life." 
It is in this spirit that the Downtown Main Library, in partnership with the Hamilton County Office of Reentry, opens a new window and Volunteers of America Ohio & Indiana, opens a new window, is hosting Unbound: Writing and Art from Cincinnati's Returning Citizens.
Since August of 2018, Library staff members Keloni Parks and Correna Kuhl spend each Friday morning at the Hamilton County Justice Center providing Library outreach and creative programming to people preparing for reentry. Every other week, they also visit Volunteers of America's Residental Reentry Program, a halfway house on McMicken Avenue, to perform similar activities. This exhibition is a culmination of their efforts, showcasing the creative talents and stories of the returning citizens who participate in the program. 
Every Justice Center session begins with one of the men telling the rest of the group about resources the Library provides, while Parks and Kuhl fill in the gaps. Then they alternate between facilitating a discussion group about an article and leading a workshop that encourages participants to write, draw, and appreciate each other's creative talents. The discussions and writing workshops create an emotional space that is rare inside and outside the Hamilton County Justice Center. Residents listen to each other's life experiences and encourage each other's writing and art. This exhibition is a culmination of their efforts, showcasing the work of the returning citizens who participate in the program. 
Unbound seeks to personalize and humanize the experiences of citizens in varying stages of return from incarceration. Not only does the exhibition discuss the obstacles they face, but it also highlights the assistance they receive from various local organizations.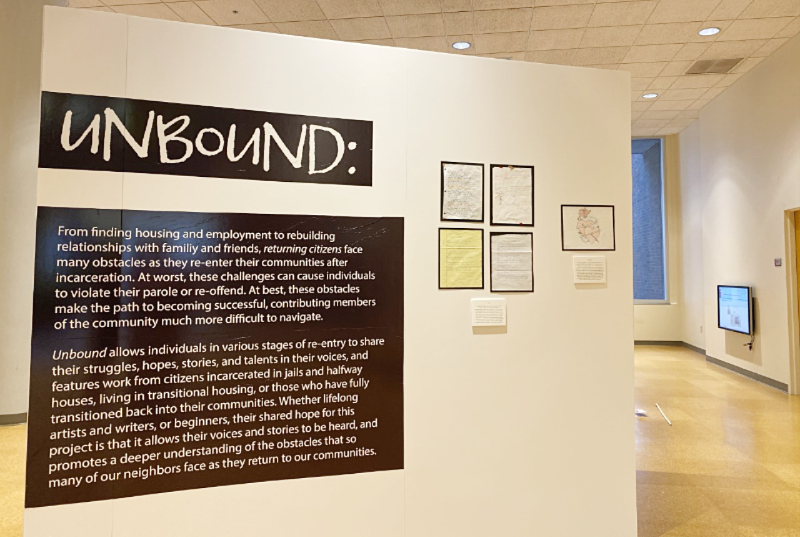 There are a lot of misconceptions when it comes to returning citizens. "When we think of the criminal justice system, we think of the crime, the trial, and then the incarceration," says Kuhl. "But the vast majority of incarcerated people get out, whether that's in a few months or many years. So first when we think about returning citizens, we have to recognize that they exist, that they are common, and that their communities are our communities."
Kuhl underscores the importance of recognizing that current or previous incarceration doesn't make someone a bad person. "The stigma attached to a criminal record, regardless of whether or not someone has served their time, will impact individuals for the rest of their lives," says Kuhl. "I think there's something seriously wrong when we label a person as a 'criminal' as opposed to labeling their actions as 'criminal'. Not only is the issue a lot more complicated than 'good' people and 'bad' people, but if you call someone a bad person enough, it becomes a self-fulfilling prophesy, and then we're not really investing in rehabilitation."
Words matter. "We use language to define our world," explains SharedJustice.org, opens a new window. "Changing our language is a small step we can take that can help us to think and act in new, redemptive ways. We use the term 'returning citizen' to refer to men and women leaving jails or prisons and integrating back into society. The language used to describe them can often perpetuate harmful stigmas and make their transition even more difficult."
"Many returning citizens lack a supportive environment," notes Parks. "Some people have burned bridges, have stressful home lives, or struggle with anxiety, anger, and depression. All of these can be difficult issues to overcome without a supportive environment." 
Returning citizens face basic obstacles like trying to find housing and employment with a criminal record, while also often grappling with more complex struggles such as mental health, substance use disorder, rebuilding fraught relationships with family and friends, parental rights, and re-adjusting to the free world. For some individuals, the length of their incarceration caused them to entirely miss our transition toward a digital world, where often job applications, among other important things, are found only online. With assistance from organizations like the Hamilton County Office of Reentry and Volunteers of America and support from organizations like the Library and many others, those challenges get a little less daunting. 
Since the Library's reentry outreach program began last year, the results have been nothing short of revolutionary. "I've had an individual tell me that he'd never written before," says Kuhl. "After participating in our program he writes every day and feels that it's helping him deal with the trauma that he experienced as a child. There is art in the exhibit from a young man who had never drawn before and is so proud of his creation. The writing and art does humanizing work, whether it's just to get difficult feelings out or promote a sense of pride and accomplishment. I think a lot of people moving through the justice system struggle with low self-esteem, and the creativity that we encourage helps with that." 
"A couple of the men have visited the Downtown Main Library to discuss projects they're continuing or to use the Makerspace to work on a project we discussed in the Reentry Pod," Parks adds.
Unbound is drawing lots of excitement, both from returning citizens and folks who are still incarcerated. The artists are excited to have their friends and family see their work on display; to hear their voice. There's a hope among them that maybe their work will touch the lives of someone else who needs it. 
"I hope people see reflections of themselves," says Parks. "We have such similar struggles, and it can be hard to persevere." 
We invite you to join us for light refreshments in the Downtown Main Library's Atrium on Sunday, October 13 from 2-4 p.m. to celebrate the creative work of returning citizens and learn more about the ongoing efforts to ease the process of reentry and reduce recidivism. This reception will feature Andrew Roberts, EVP of Volunteers of America Ohio and Indiana, speaking about VOA and reentry in our communities.
"Reducing recidivism is not something that just happens. It takes a cultural shift, a commitment from the whole community towards empathy; towards mercy...by reducing social stigmas around incarceration, we can also reduce barriers that keep people from well-paying jobs, from affordable housing, and from higher education," says Kuhl. "We can all grow better together. I also hope that the participants of the exhibit get a sense of well-deserved pride from this experience, and the knowledge that they have touched people's hearts with their stories and creations."
This exhibit runs from September 28, 2019 - January 31, 2020 and contains stories, art, and writing that all took great vulnerability on the part of the creators. Their willingness to be vulnerable for all of us in sharing these, often intimate, pieces of themselves, is greatly appreciated. We thank each and every participant for entrusting us with their stories, art, and writing.