Written by Joe Armstrong, Content Specialist, Downtown Main Library
The Sharonville Branch Library was officially reopened at 10 a.m. on Saturday, November 18 after a ribbon-cutting attended by customers, elected officials, CHPL Board Members, and Library staff. Now, the refreshed branch is ready for customers of all ages to explore with new features, resources, and more to discover.
The $450,000 project was made possible through the generous support of Hamilton County as a result of the 1 mill levy that passed in May 2018. Learn more about the Sharonville Branch Library refresh project, opens a new window.
Your Refreshed Sharonville Branch Library
The Sharonville Branch Library is the seventh CHPL branch to receive a refresh since 2020, part of the Library's Facility Master Plan. The branch has been improved with new flooring, updated finishes, select new furniture, and new shelving while incorporating the features of a Next Generation Library.
Customers will immediately notice the changes to the branch's layout, with a redesigned, welcoming entry where you can find new displays featuring recent arrivals, staff picks, and other curated collections.
The branch's reservable meeting room has been given another entrance, allowing for convenient access from multiple spaces in the building.
One improved area is sure to be a popular destination at the branch. The new adult reading area is already a favorite of customers. With new, comfy furniture and a warm fireplace, you'll be sure to make this a stop at every visit to the branch.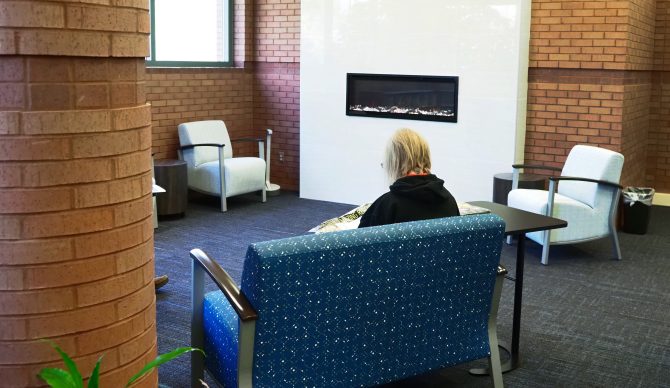 The children's area has been expanded to create more room for storytimes, events, and much more!

Customers can now also enjoy another highly-requested feature for the refreshed branch: updated public computers. All the public computers have been upgraded and can access free Wi-Fi. 
First Impressions of the Refreshed Library
What are you most excited about in the refreshed Sharonville Branch Library? Let us know in the comments below!