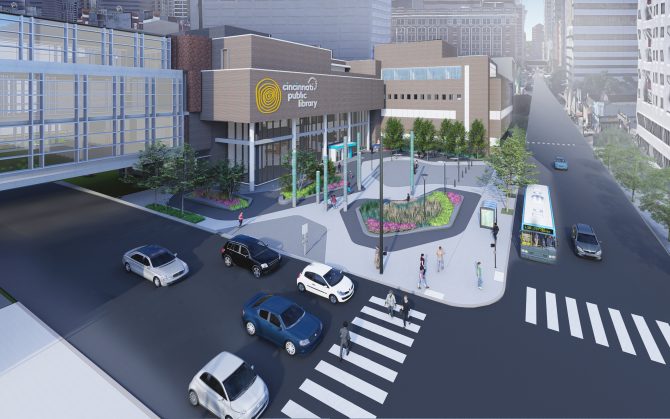 Status: Construction in Progress
Estimated Completion Date: 2024
Improvement Category: Multiple Improvements
Planning Zone: Central
Estimated Investment: $39.8 million
New Roof - North Building: $1.2 million
Energy Retrofit - South Building: $4.8 million
South Building Skylight and Elevator Replacement: $3.1 million
North Plaza Redesign, South Plaza Redesign and Interior Refresh: $30.7 million
Architect: Group 4 Architecture & Champlin Architecture
Construction Manager at Risk: Turner Construction
---
The Downtown Main Library's North Building remains open for library service during construction on the South Building. Learn where to find services and materials during construction.
Interested in more details? Read the project updates.
At 540,000 square feet, the Downtown Main Library is the Library's flagship location, accounting for about half of the Cincinnati and Hamilton County Public Library's public space. In December 2017, the Library Board of Trustees confirmed the desire to retain the Downtown Main Library's North Building, and to have both buildings of the Downtown Main Library re-envisioned to better meet customer needs. Improvement information is contained in the Central Planning Zone Facility Master Plan Document.
The Main Library's South Building is closed for the duration of the project. Visit the Downtown Main Library's North Building for materials and services.
Main Library Plaza Redesign and Interior Refresh
Designed by Group 4 Architecture + Champlin Architecture, the Downtown Main Library renovation injects the cultural and geographic landscapes of Cincinnati and Hamilton County into the existing mid-century modern buildings.
The plaza walls will be removed and the plaza will be lowered to street level to create a safer and more welcoming Vine St. entrance.
Portions of the interior of the library will receive a light renovation.
A new, at-grade plaza and large glass curtain wall will welcome library users to the revitalized atrium. The design will express the wonderful range of library spaces within. Upon entering the atrium, an inviting and warm social stair will knit together the Walnut Street and Vine Street entrances while providing a range of seating opportunities for individuals, small groups, and large events. Inspired by the hills of Cincinnati, this welcoming design provides new amenities and gathering spaces, as well as an intuitive connection to the upper floors of the library, accessed through a new stair extending from the second floor upwards.
Skylight and Elevator Replacement
In 2021, crews replaced the South Building atrium skylight. Throughout 2022, crews replaced several elevators throughout the Downtown Main Library.
Energy Retrofit and Roof Replacement
The heating, ventilation, and cooling (HVAC) and electrical systems in the South Building - built in the 1950s - were updated in 2020. This project included the replacement of original boilers with three new boilers, upgrades to the cooling system, adding 14 new air handlers, the addition of a fire suppression system, and improvements to the electrical system. The roof of the North Building was replaced in 2019. The South Building roof was replaced recently, providing a completely updated roofing system for the entire 540,000 square foot building.
Take a closer look at the Energy Retrofit project from start to finish through August, opens a new window, September, opens a new window, October, opens a new window, November, opens a new window, and December, opens a new window 2019 update videos.
Downtown Main Library Next Generation Library Blog Posts
We'd love your feedback on Building the Next Generation Library.
"*" indicates required fields