Find government information and services at your Library.
All of Cincinnati & Hamilton County Public Library's 41 locations help connect you with information and resources for your city, county, state, and federal governments.
Popular Resources and Services
Connect to Government Resources
Contact Government Agencies
All CHPL library locations have public computers and free Wi-Fi to use for emailing government agencies, scanning documents, accessing government websites, and more. Cincinnati residents can download and use the Cincy311 mobile app to access to various Cincinnati government departments such as Transportation & Engineering, Buildings & Inspections, Health, and Public Services.
Print Financial Documents
Print out tax forms and instructions, W2's, paycheck stubs, and more at any library location - up to 20 pages for free per day.
Locate Housing Resources
Use the library's free public computers and Wi-Fi to apply for affordable housing, internet, Home Energy Assistance Winter Crisis Program (HEAP), opens a new window, Cincinnati Metro Housing Authority (CMHA), opens a new window, and more.
Find Medical Information
Access medical forms on the Library's free public computers and Wi-Fi or to apply for Medicare, opens a new window/Medicaid, opens a new window.
Access Social Services
Find and apply online for social services from Hamilton County Jobs and Family Services, opens a new window using the Library's free public computers and Wi-Fi. Print and fax forms, opens a new window, apply for Supplemental Nutrition Assistance Program (SNAP), opens a new window, find childcare assistance, opens a new window, sign up for your Golden Buckeye Card, opens a new window, and more.
Find a New Job or Learn New Skills
Learn new career skills, find a new job, and more through OhioMeansJobs, opens a new window online using the Library's free public computers and Wi-Fi. View upcoming job fairs hosted in partnership with OhioMeansJobs on our website.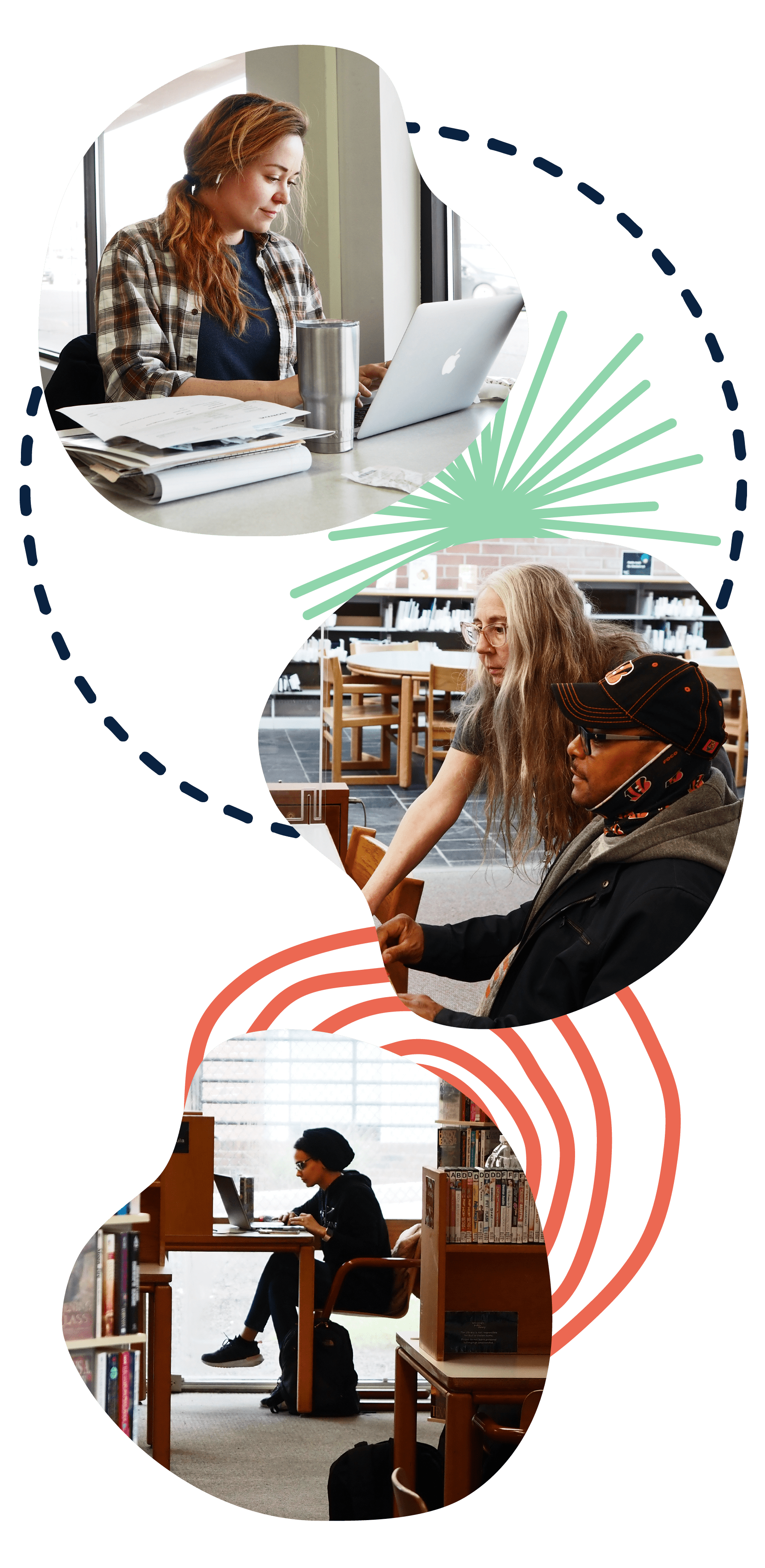 Access Technology
Library staff can assist you in reserving one of our public computers and laptops, accessing CHPL's free Wi-Fi, and provide assistance in copying, faxing, and printing materials. The Library provides unlimited free faxing and free printing up to 20 pages per day.
Get Technology Support
Library staff can help you set up an email address, navigate government websites, create government accounts, set up appointments, and more. To set up one-on-one assistance virtually or in-person, make a free Ask a Librarian appointment.
Find Resources
Get assistance from library staff to find the correct forms and instructional materials or assist you in determining what personal documentation you may need to verify your identity with government agencies.
Use Meeting and Study Rooms
Reserve a meeting or study room for free online to use for remote work, accessing government websites, and more.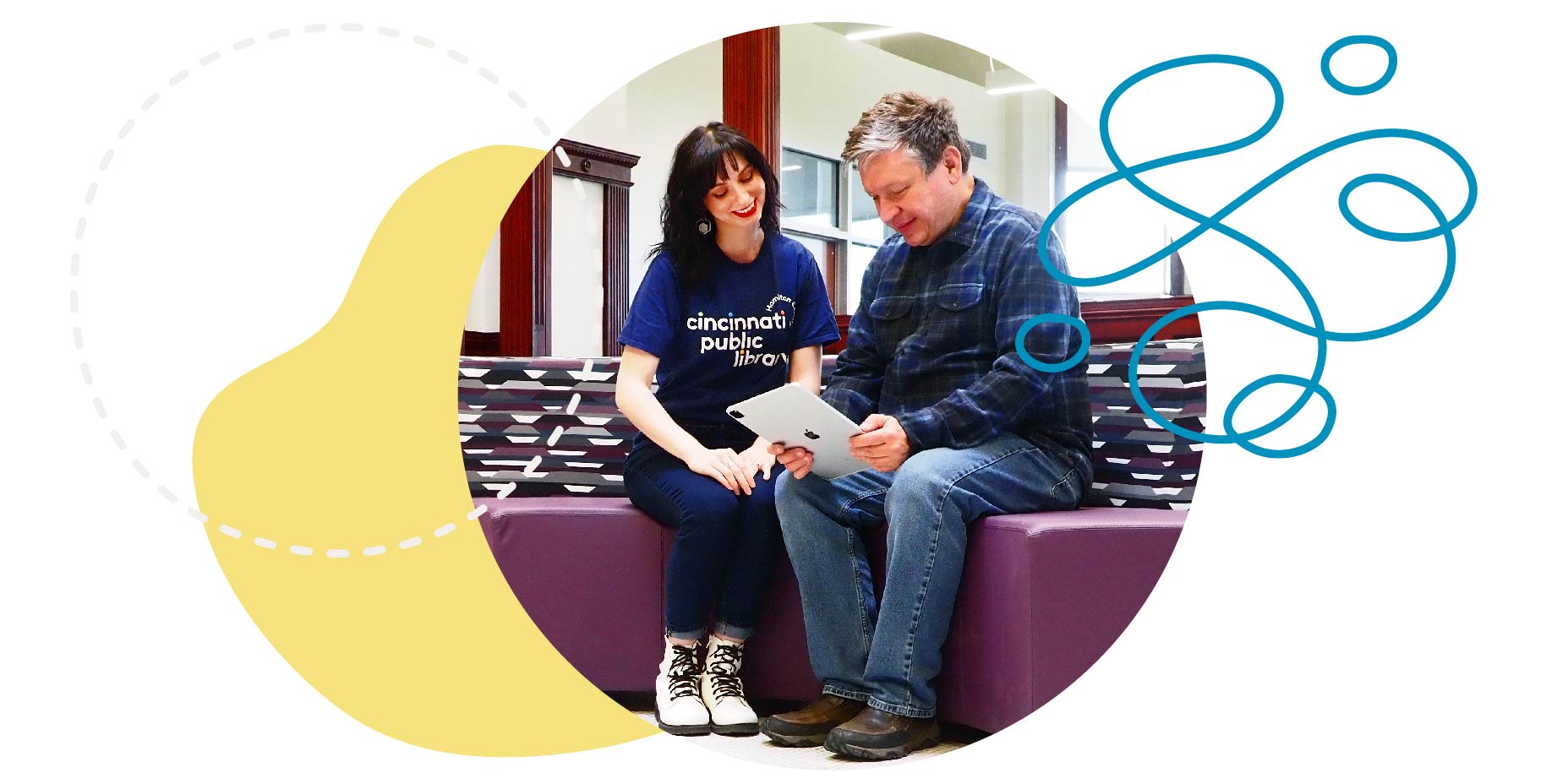 "One of our

customer

s was suddenly laid off and came in for assistance applying for unemployment insurance. Afterwards, s

he said we were always so helpful and kind to her

.

She recently stopped by and told us she started a new job

!"
- Staff at the Groesbeck Branch Library
"A customer visited the Walnut Hills Branch to get help with

possible identity

theft.

He told us that as a result he has not received any economic impact payments and cannot find work.

We shared some resources including ODJFS' new ID theft hotline to help him get his claim started. Before leaving he said he was thankful to have someone to talk to who genuinely cares."
- Staff at the Walnut Hills Branch Library
"The fact that I can come in a few times a year and have my tax forms printed, rather than having to purchase a printer, is invaluable."
- Walnut Hills Branch Library Customer
"A

customer

shared she was very intimidated by the

process

to find a passport acceptance facility, but the Library staff who

assisted

her went

above and beyond

with how kind and helpful they were during every step of the way, from phone call to the appointment itself

.

She was visibly relieved that things had

gone

so well

with

her passport appointment."

 
- Staff at the Anderson Branch Library