Written by Joe Armstrong, Content Specialist, Marketing, Downtown Main Library
Autumn has arrived and the Cincinnati & Hamilton County Public Library has scenic views, materials, events, and more to inspire pumpkin pals and leaf lovers alike.
Visit Favorite Fall Spots Across CHPL
The leaves are changing across southwest Ohio and the signs of autumn are apparent at the Library's 41 locations.
Browsing the aisles of the Groesbeck Branch is much more enjoyable with this scenery.
Nothing beats a fall afternoon in the Symmes Township Branch courtyard. Listen to a staff-suggested audiobook while enjoying the view.
No fireplace at home? No problem! Get comfortable at the Anderson Township Branch's newly renovated space, generously donated by the Anderson Township Library Association, opens a new window, that now includes the perfect fall fireplace.
With a convenient holds locker right inside the front doors of the Oakley Branch, you can quickly grab your fall movies and enjoy the autumn views, no matter the time of day.
See one of the best fall views of CHPL at the Sharonville Branch before attending one of their in-person events, opens a new window.
The Green Township Branch is welcoming the new season with the help of a friendly scarecrow!
With an additional 6,793 square feet of indoor space after a Next Generation Library renovation, opens a new window, the Price Hill Branch has plenty of ways to enjoy the fall foliage.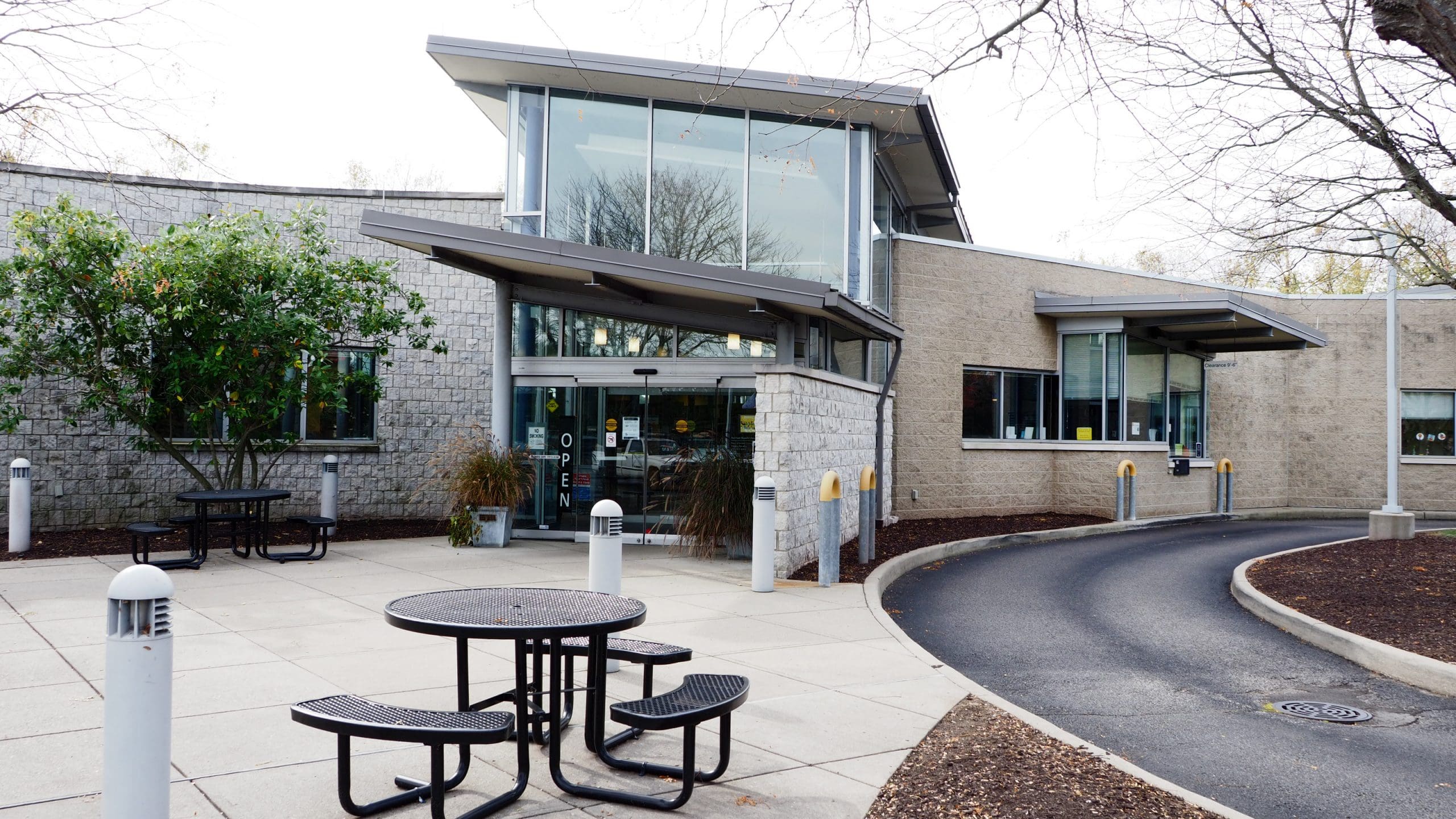 You can catch the scenery and "fall" in love with a teen book, opens a new window while on the go at the Harrison Branch's curbside drive-through.
Fall has arrived at the West End Branch, along with fall-themed children's books, opens a new window.
Forest Park Branch's award-winning architecture, opens a new window looks even better in autumn. Visit what was the largest suburban library in the country when it was constructed in 1969.
Crafting Maple Leaves, Moths, and More with CreativeBug
Cardholders can access hundreds of crafting ideas to tailor to their schedules, including monthlong challenges, daily practice series, and individual crafting projects.
Complete your first crafting project of the season alongside Keith Armour, Education & Homework Support Manager, during a recent Lunch & Learn video. Make your own illustration of a fall leaf using ink and tracing techniques.
Tune in throughout fall on CHPL's Facebook page, opens a new window for new weekly Lunch & Learn videos.
In-Person Fall Festivities Across CHPL Locations
Connect with other fall fanatics during virtual and in-person autumn events. Visit the Forest Park Branch to make your own decorative pumpkin mason jar, opens a new window, perfect for storing your fall treats and treasures. Gardens need attention even after harvest. Attend a virtual event, opens a new window through the Adult Learning Center to plan your garden or pots for fall. Children ages 3-6 can visit the Green Township Branch for the Fantastic Fall Preschool Discovery Lab, opens a new window and learn why leaves change colors through hands-on science experiments.
LinkedIn Learning Photography Courses, Tips, and Tricks
You don't have to be a professional photographer to capture the changing seasons. With the help of LinkedIn Learning, CHPL cardholders can access courses on how to capture the perfect shot anywhere you go. Get quick tips and tricks with five-minute videos or take a deep dive with courses, opens a new window designed to take you from amateur to Ansel Adams.
Where's your favorite CHPL spot to enjoy fall? Comment below and share how you have fun during fall at the Library!