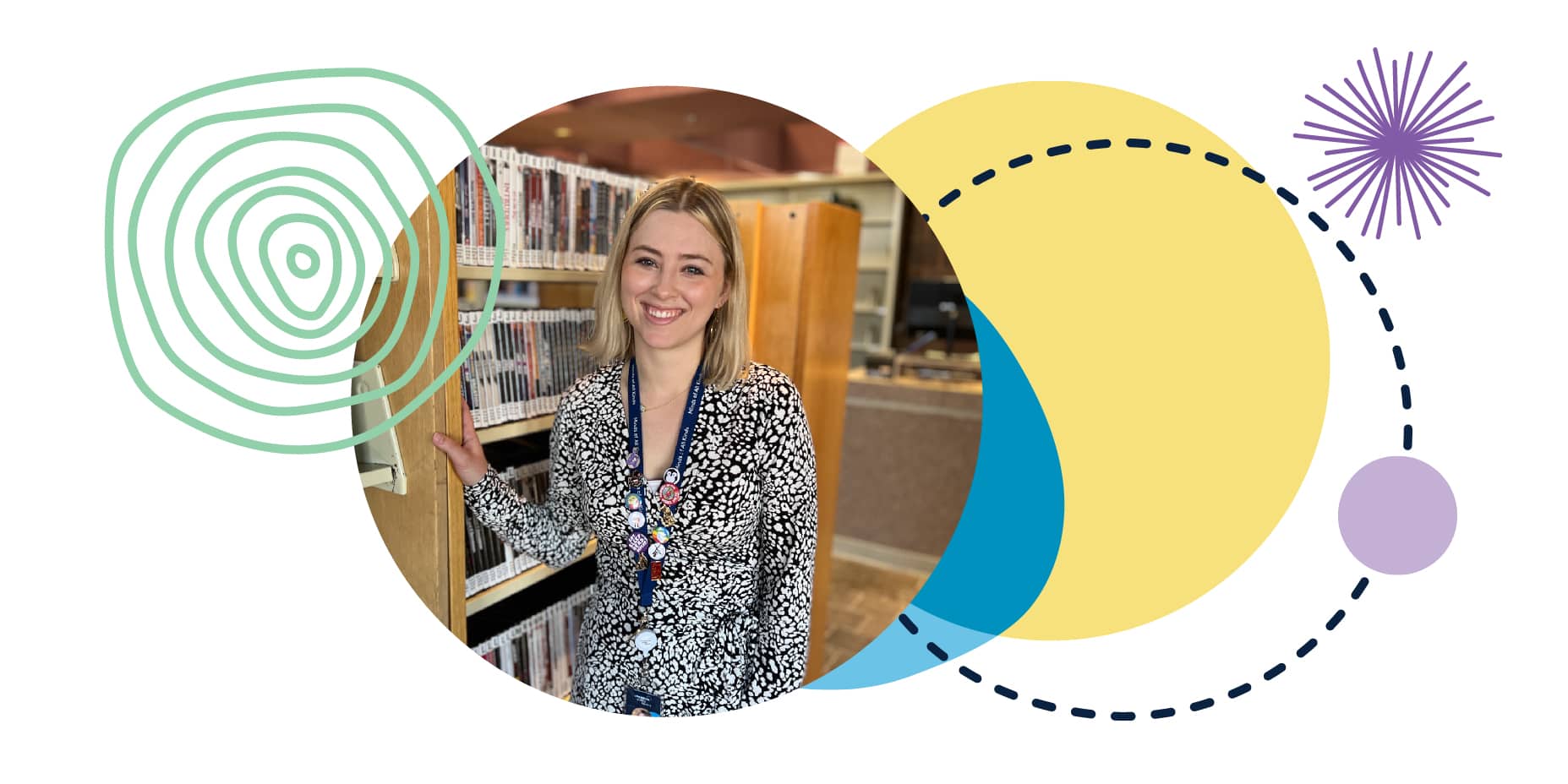 Written by Joe Armstrong, Content Specialist, Marketing, Downtown Main Library
When people hear the word "library" a few things typically come to mind, namely librarians and books. But a library is run by people working in many different roles. They're all helping community members with much more than book recommendations. Our series Spend a Day with a Library Worker, opens a new window, takes you inside the lives of our library staff in different roles and follows them on a typical workday.
Before the sounds of storytimes and discussions between customers fill the air at the bustling Miami Township Branch Library, opens a new window, one CHPL library worker arrives early in the morning, unlocks the doors, takes a good look around, and gets ready for another day full of discovery for customers. Follow along as we spend a day with Library Customer Specialist Jordan Case.
Where Everybody Knows Your Name
"Hey, Jordan! Thank you so much for showing me that tip on Libby, opens a new window!"
"Jordan, can you help me find that movie I was talking about yesterday?"
"Is Jordan here? Her recommendation was spot on!"
Jordan's morning is busy. She checks previous night's returns, receives new deliveries from the Library's Distribution Center, and pulls holds for customers. As the branch opens, chances are good that a few customers will arrive and ask for Jordan by name.
"We have a lot of regulars who we know by name," Jordan says. "I've been working at CHPL for six years. I know customers who have been visiting for those six years and have built great relationships with them."
Customer service is the biggest part of Jordan's job and it's what she enjoys most: helping customers solve problems big and small, finding what they're looking for, and seeing what they discover.
"Sometimes, when customers come and don't see me immediately, they'll peek above the front desk and call in to see if I'm there, which makes my day. It's really great to have customers who enjoy their library staff and the feeling of knowing I'm helping them."
Teaching Tech, Solar Science at CHPL
When she has a moment in between assisting customers, Jordan pulls out a binder full of images, text, and lots of writing in the margins. "This is one of my favorite things to do here," Jordan says as she opens up the binder. Jordan leads technology classes each month on topics customers frequently ask about.
From tips and tricks for borrowing videos on Kanopy, opens a new window to walkthroughs of library resources to help build your resume, Jordan's classes are built specifically around what the customers at the Miami Township Branch need. It's so rewarding to help customers I see every day, but just as rewarding to see new faces, Jordan says, "One memory that stands out from these classes is when customers drove to us to learn all about Libby. They got the one-on-one attention they needed to really know how to use the app."
Jordan assists with other programming at the Library, which included a solar eclipse viewing ("We had a least a few hundred people for that one!"), COVID-19 test kit distributions, LEGO-building challenges, and more. "It's so cool to see folks know the Library as a place where the community can come together," says Jordan.
The Joy of Discovery (Passes)
In the evening, as the Library is about to close, Jordan helps customers with any last questions they have before they head out with their arms full of books, audiobooks, and movies. One resource Jordan enjoys sharing with customers is CHPL's Discovery Pass, opens a new window. "The passes allow customers to visit the Cincinnati Museum Center, Great Parks of Hamilton County, and other wonderful places for free!" Jordan says, "It's such a great resource for our community – and I always love hearing about them all from customers."
CHPL is full of experiences, both familiar and new. "We do all kinds of things," she says, "We offer free faxing, assisting with computers and technology, book clubs, art classes, and so much more." And when customers walk through the doors of the Miami Township Branch Library, they know Jordan can help with it all.
Interested in serving minds of all kinds at CHPL? Check out our current job openings, opens a new window.