Written by Alli Jacobs, Youth Librarian, Mt. Healthy Branch Library
When people hear the word "library" a few things typically come to mind, namely librarians and books. But a library is run by people working in many different roles. They're all helping community members with much more than book recommendations. Our series Spend a Day with a Library Worker, opens a new window takes you inside the lives of our library staff in different roles and follows them on a typical workday.
When Paul Wellington arrived at the Loveland Branch Library, he planned to record a TikTok merging the concepts of football and libraries to share how the Cincinnati & Hamilton County Public Library has gone late fine-free. What he didn't expect was that the 19 second clip would be viewed over 2.6 million times, opens a new window.
And just a few months later, with the help of the Library Customer Adviser Kelwin Hester at the Groesbeck Branch Library, CHPL took over TikTok again, this time garnering over 3.1 million views, opens a new window as he demonstrated the creatively acrobatic ways library staff can gather books customers have placed on hold.
Going viral is just one of the things Paul does as CHPL's Social Media Specialist. Follow a day in his life to celebrate all things CHPL, including its 41 library locations, more than 800 library staff, and hundreds of thousands of customers.
From Shelving to Social
Paul has a long history of working in libraries. He started as a shelver at the Milwaukee Public Library (MPL). In his time there he was promoted to clerk, which is a position similar to CHPL's Library Customer Assistant, opens a new window, and eventually became a service manager. During the peak of the COVID-19 pandemic, Paul also took on the role of doing social media for MPL.
Paul has a master's degree in architecture and he's been able to use his knowledge of design when creating original memes. Paul and his family recently made the move to Cincinnati and he has found a home for his many talents here at CHPL.
Content & Collaboration
Like many of us, Paul, in his office of organized chaos, can be found on the computer. From a daily check-in of the online reviews and posts for all 41 library locations, to answering a flurry of emails, he spends his time communicating with CHPL customers and the public at large. As part of his job, Paul enjoys following many other libraries on social media, especially on Facebook, Instagram, and Reddit, getting a sense for what is trending. His goal is to come up with the most creative content, that is new and engaging.
From there he begins to formulate posts. It could be a funny post about picking up your library holds, a feature for an upcoming program, or a fun fact about the Library. And as CHPL's Facility Master Plan, opens a new window progresses with many library locations under construction that means occasionally donning a hard hat to share the latest progress on the upgraded spaces coming soon for customers to enjoy.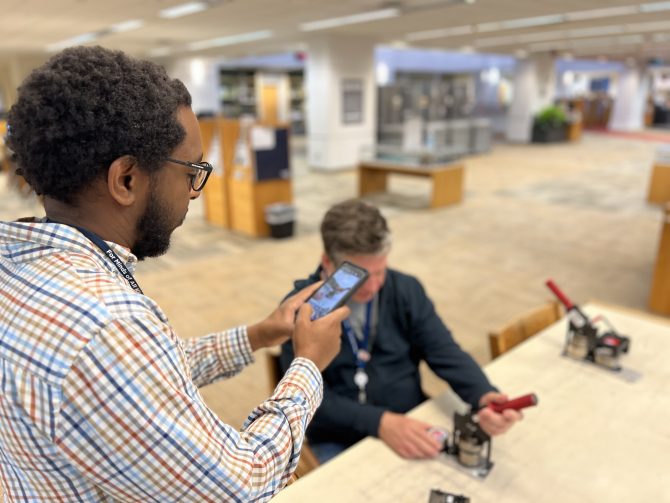 From bouncing ideas around with the Communications and Marketing teams to working on videos and content with branch staff, Paul loves to collaborate with others. He is excited to be working with our 2023 Writer-in-Residence, Manuel Iris. They have recently filmed some content featuring Manuel's poetry and he is eager to share it with the public.
Like many of us at the Library, Paul's favorite part of the day is when a customer has a question and he's able to answer or point them to a library resource. It's like a great mystery to solve! Fortunately, there are tons of great library resources and alone or with the help of other CHPL staff and librarians, he can to point customers to the right resource.
Reflecting Our Diverse Community
The Library strives to make everyone feel welcome; it is a Pillar of Excellence that we pride ourselves on. Library programs and materials should be reflective of our diverse community. It is vitally important that people see themselves in their Library.
Paul is a member of the Black Events and Exhibits Committee (BEEC) at CHPL, a staff workgroup. The Library can serve as a doorway to a new culture and the BEEC is one way library staff advance this goal by planning and presenting programs that speak to the Black Experience. Through this workgroup, Paul allows his creativity to shine and he gets an opportunity to collaborate with staff - and inspire customers.
Check out Paul's work on our social media accounts. Be sure to comment on the posts, he loves chatting about the Library!