Written by Alli Jacobs, Youth Librarian, Mt. Healthy Branch Library
When people hear the word "library" a few things typically come to mind, namely librarians and books. But a library is run by people working in many different roles. They're all helping community members with much more than book recommendations. Our series Spend a Day with a Library Worker, opens a new window takes you inside the lives of our library staff in different roles and follows them on a typical workday.
If you've worked or volunteered for CHPL, there's probably been an email in your inbox from Renee Oliver. As the Human Resources Coordinator and Volunteer Coordinator for the Library, she's focused on making sure library staff and volunteers get their questions answered and ensuring important paperwork gets processed correctly.
The Giver of Great News
Renee's the giver of great news. One of her responsibilities is sending out job offer letters to CHPL's newest employees. "That definitely makes my day a lot of fun," Renee says. Whether it's new hires, transfers, or promotions – Renee is usually making someone's day with the great news they've been waiting for ("CHPL does have job opportunities available, opens a new window, by the way!").
She carefully compiles important documents, ensuring that the information about the future staff member and their position is correct. Renee's great attention to detail comes in handy. Any information that's incorrect can disrupt a person's onboarding and ability to begin their job.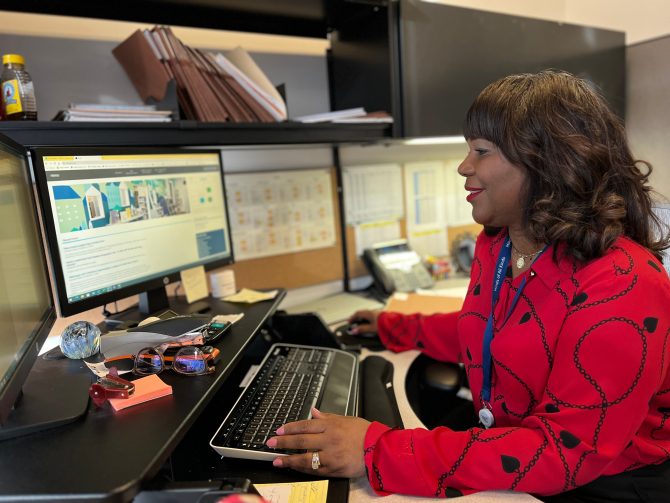 Besides working with new employees, Renee's the coordinator for all of CHPL's wonderful volunteers. She ensures each volunteer has completed their application and received the appropriate training. "One of my favorite things to do is help plan the volunteer appreciation party each year," she says, "we are so grateful for everything our volunteers do."
Enjoying a Good Challenge
Renee loves learning new things and a good challenge. Recently, CHPL implemented new human resources systems throughout the organization. Working alongside her colleagues, Renee ensured that the transition was as smooth as possible for something that impacts every CHPL employee.
Changing systems is never easy, but this was especially challenging because the transition happened over the holidays and had to be ready on January 1. Renee and her colleagues in the Fiscal worked quickly and diligently over long hours to ensure that nothing was disrupted during the transition. Another challenge complete!
Making a Positive Impact
Renee's "definitely a people person" and loves giving good news and helping solve problems. Her background is in business analytics, but she wanted to focus on human resources to make a positive impact. When she saw an opportunity in the Library's Human Resources Department, she knew it would be the perfect fit for her.
Outside of her career, Renee loves trying new places to eat, especially Thai restaurants! In fact, her favorite Thai restaurant recently closed down so she is on the search for a new one. If you know of any great restaurants leave a comment and we will let her know!
Interested in serving minds of all kinds at CHPL? Check out our current job openings, opens a new window.