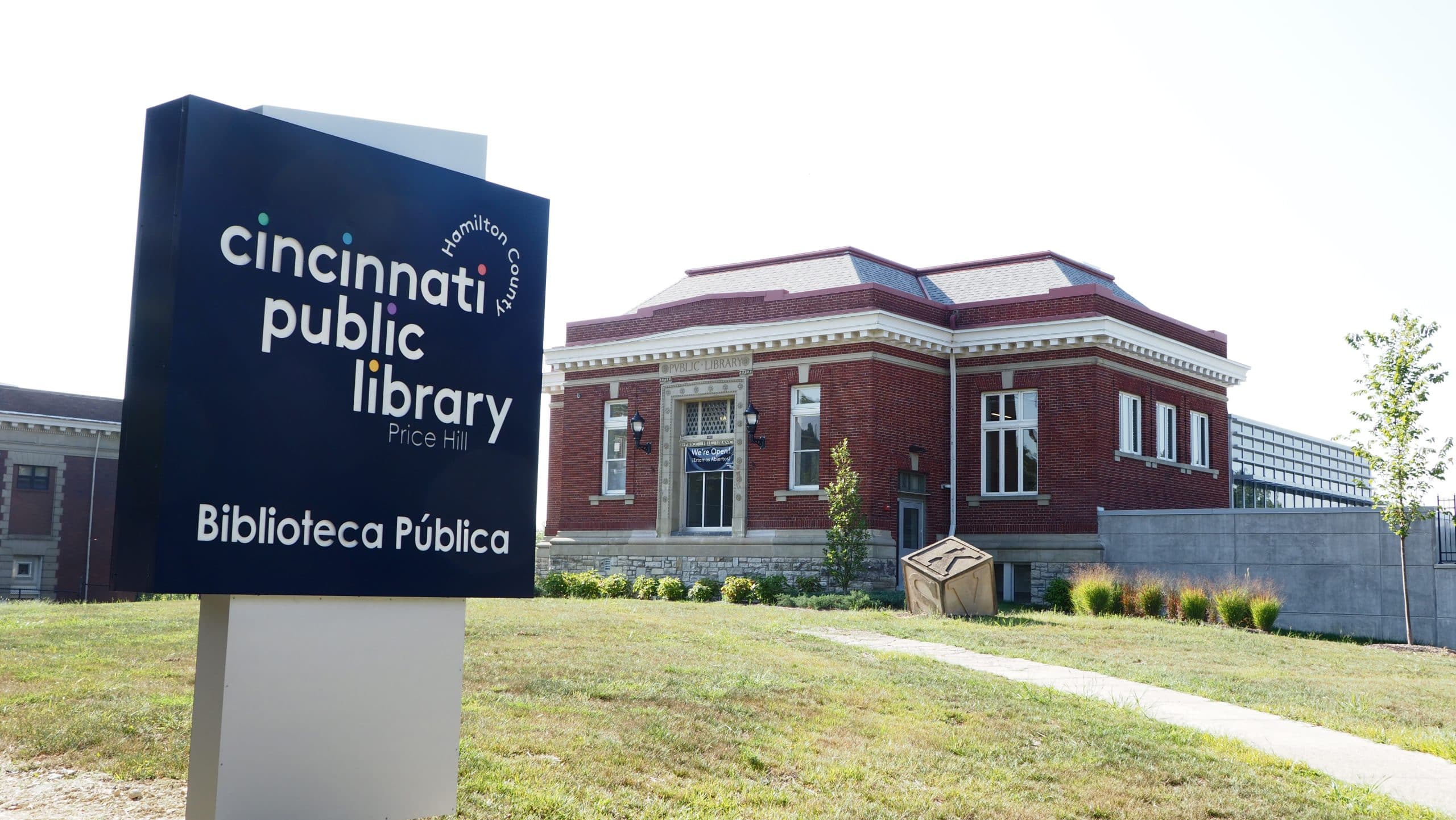 Status: Complete
Completion Date: April 2021
Improvement Category: Renovation & Expansion
Planning Zone: West
Estimated Investment: $7.3 million
Visit the Branch: View location page
---
Interested in more details? Read the project updates.
The Price Hill Branch Library has reopened to the public as of April 12, 2021.

The Branch was featured in the 2021 American Libraries Magazine Design Showcase, opens a new window as a noteworthy example of a library renovation.
About the renovated and expanded space:
Add

itional

6,793

square fe

et

of indoor space, increasing to over 12,000 square feet of useable space

 

Accessible

to

wheelchairs, walkers, and strollers

 

Designated q

uiet

areas

 

Re-envisioned spaces for adults, teens, kids including three study rooms, four meeting rooms, and a meeting space accommodating up to 100 people

Bilingual approach, including signage in Spanish

Increased parking

 

Flexibility to meet future community needs
Thank you to the Cincinnati Recreation Commission who generously allowed us to continue serving customers from their building during this project.

September 2022 update: Construction on the parklet in front of the branch is underway! Find out more on the project page for the parklet.
After several community feedback sessions in Price Hill – including sharing the design concepts, FTC&H, the architectural firm hired to do the project, finalized the design for the branch. Initial bidding from contractors was over budget, and the project went to re-bid.
Design Renderings/Layouts
The project re-bid construction documents have been advertised online and with the Cincinnati Enquirer on 12/13/19 and 12/16/19 asking for contractors to begin reviewing, estimating the cost to construct the building and assemble their official bids to submit to the Library for consideration. The project required a re-bid since the initial contractor bids, submitted by interested contractors on 11/19/19, exceeded the allowable bid threshold set by Ohio Revised Code for public bidding. The allowable threshold is 10% of the total advertised construction cost estimate. The initial bid came in 22% over the advertised estimate. The Library had to disqualify the bids to comply with the Ohio Revised Code.
As a result of the overbidding and after a careful review of the project plans, the Library Board of Trustees increased the overall project budget to $7.3 million dollars at their December 10, 2019 meeting. The construction market at that time was very competitive as a result of greater demand than available suppliers and workforce. In addition, the cost of materials was higher than in the past several years. This project was a priority given that the current facility is not accessible or operational.
The re-bid from interested contractors were opened and read aloud on January 15th, 2020.
The Library, in conjunction with its construction management team, qualified each bid submitted and awarded contracts to the lowest responsible contractor for each of the nine Trade contracts that were advertised in accordance with the Ohio Revised Code.
Community Presentations
We'd love your feedback on Building the Next Generation Library.
"*" indicates required fields