Written by Tom Moosbrugger, Reference Librarian, Downtown Main Library 
Want to get outside, get in touch with nature, and get a tasty reward for your efforts? If you don't mind getting your hands a little dirty then patio, backyard, or even window gardening is a fantastic way to spend your time at home.  
There are few things more delicious than fresh vegetables and herbs picked directly from a plant and cooked up into a healthy meal. Also, getting outside air and sunshine can improve your mood and make you feel rejuvenated.
Indoor or outdoor gardening can help you incorporate more fruits and vegetables into your diet which is also good for healthy eating. The Library has lots of resources to get you started.  
Whether you have just a countertop inside, a little space on a porch or patio, or a big yard you would like to make use of, there are lots of options to get gardening. 
Hoopla has a large collection of gardening books, opens a new window and Freading, opens a new window has an extensive collection as well. OverDrive, opens a new window also has gardening titles available, though because they're shared resources like our print materials, some of the most popular titles may have waitlists:  
Beginner's Illustrated Guide to Gardening, opens a new window by Katie Elzer-Peters  
Square Foot Gardening Answer Book, opens a new window by Mel Bartholomew  
Square Foot Gardening Answer Book, opens a new window by Mel Bartholomew  
The Vegetable Gardener's Container Bible, opens a new window by Edward C. Smith 
Container Gardener's Handbook, opens a new window by Frances Tophill  
One Magic Square Vegetable Gardening, opens a new window by Lolo Houbein  
Countertop Gardens , opens a new windowby Shelley Levis  
You can also learn from experts every day. The Ohio State University's (OSU) Master Gardener program has daily Horticulture Lunch and Learn and Horticulture Happy Hour programs. You can find upcoming events and archived prior events here, opens a new window!  
OSU has an extension office in Hamilton County and you can ask their Master Gardeners questions and seek advice about your gardens through the website for home gardeners, opens a new window.  
Locally, the Civic Garden Center of Greater Cincinnati, opens a new window has a wide array of how-to guides on a variety of topics such as gardening in a small space, building up healthy soil, and composting. The complete list of guides is available on their website, opens a new window.   
If you are gardening, you might also want to start composting. It is a wonderful way to deal with your kitchen scraps and yard waste, and you can use all the fine compost to help turbocharge your gardens. It's also a terrific way to reduce the amount of trash that needs to be carried off to landfills, making it a wonderful way to make your household far more eco-friendly!  
Here are a few books available online to you started: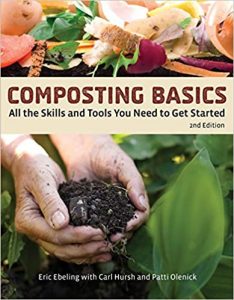 Composting Basics, opens a new window by Eric Ebeling  
The Complete Compost Gardening Guide, opens a new window by Barbara Pleasant and Deborah Martin  
Compost , opens a new windowby Rachelle Strauss  
Remember you can order many gardening supplies online. Many local garden centers and nurseries are offering curbside pickup and hardware stores are open for business as an essential service under Governor DeWine's orders. Now is a good time to support local small businesses. Good luck with your delicious gardening endeavors!