Written by Joe Armstrong, Content Specialist, Marketing, Main Downtown Library
From musicians to inventors, educators to award-winning photojournalists, the Library's West End Stories Project is a podcast telling the stories of individuals from Cincinnati's West End neighborhood. After a year of recording, take a look back at 10 individuals as vibrant and varied as the place they have called home:
'We Couldn't Go to a Lot of Places': Nathaniel Leroy Davis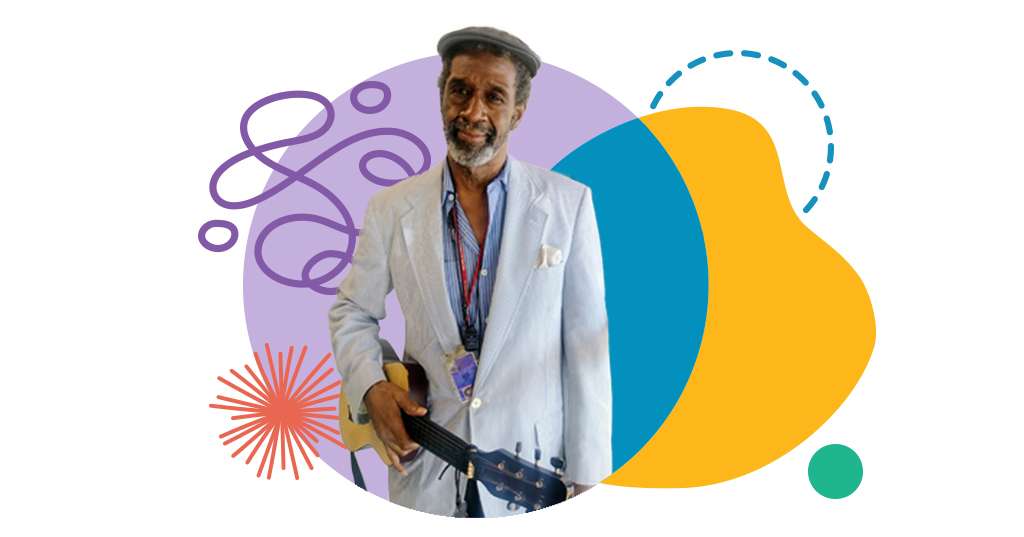 Local musician Nathaniel Leroy Davis grew up as a West End resident and remains so today. In his episode, he discusses his childhood memories of Union Terminal, race relations in Cincinnati and Kentucky, and his thoughts about the recent transformation of the neighborhood. Read our blog post for more about his episode.
'I've Always Been Very Proud of It': Tawanda Johnson
Book lover and library staff member Tawanda Johnson is proud to be from the West End. Read our blog post about her episode, and listen to a discussion of strong women, like library trailblazer Mary Finley, her big sister at Seton High School the Honorable Melba D. Marsh, and her mother Elizabeth Caulton.
'You Had So Many Families Living There': Tim Coleman
Realtor and library security guard Tim Coleman discussed growing up in the Lincoln Courts, being the baby in the family, and a fiasco at St. Joseph's Catholic Church. Photos of where Mr. Coleman grew up and more can found in our blog post.
'I Got a Lot of Experience': Ralph Moon
Retired educator Ralph Moon was born and raised in the neighborhood. Listen to his story, told in two episodes, and hear about his childhood growing up on Dayton Street, and his parents' experiences in the West End. Explore West End maps showing where Mr. Moon grew up and more in our blog post.
'We Really Knew We Were It': LaVerne Summerlin
LaVerne Summerlin is a professor at the University of Cincinnati and the author of Gems of Cincinnati's West End: Black Children and Catholic Missionaries, 1940-1970. In her episode, she discusses living in the Lincoln Courts and attending Holy Trinity School and Our Lady of Mercy High School. Read more about her West End stories in our blog post or check out her book at CHPL.
'Everybody Was Everybody': Helen Shank
Listen to Helen Shank, a retired homemaker and retail worker, about growing up in one of the first racially integrated public housing communities in the country. Find more information about her experience living in Laurel Homes Housing Project in the 1940s and attending St. Joseph Catholic School in our blog post.
'I Thought It Would Last Forever': Melvin Grier
Growing up in the "old West End" and attending Holy Trinity School, award-winning photojournalist, Melvin Grier worked for the Cincinnati Post from 1974 until it ceased publication in 2007. Read more about his home in the Tremont Flats in our blog post.
'He Was Always Hustling': Roey Moon
Listen in to another member of the Moon family, Mr. Roey Moon, as he shares more details about his father's various businesses. Read our blog post for more information about the numbers game, an illegal precursor to state lotteries.
'There Was Loud Music and Laughter': Mauvis Evans
Mauvis Evans lived near the Cotton Club in the 1940s and '50s. Listen in as she speaks about the construction of Interstate 75 and its impact on the West End, and find more information about her story in our blog post.
'I Know How It Is': Malcolm Allen Sr.
Listen as retired postal worker, Greater Cincinnati Water Works employee, and co-inventor of Tide liquid detergent Malcolm Allen Sr. speaks to his experiences living in the West End for over 30 years. Read our blog post for more about Allen's experiences growing up in the West End and check out his book, 100 or So Boyhood Memories of the Real West Endies.
A Growing History
More episodes of the West End Stories Project are being planned for release in 2022. If you or someone you know lived or spent a significant amount of time in the West End, please consider sharing your story. Call 513-369-6900 or email westend@chpl.org.
Don't miss the release of new episodes of the West End Stories Podcast by subscribing today.